Are Protein Shakes And Supplement Good For Weight loss?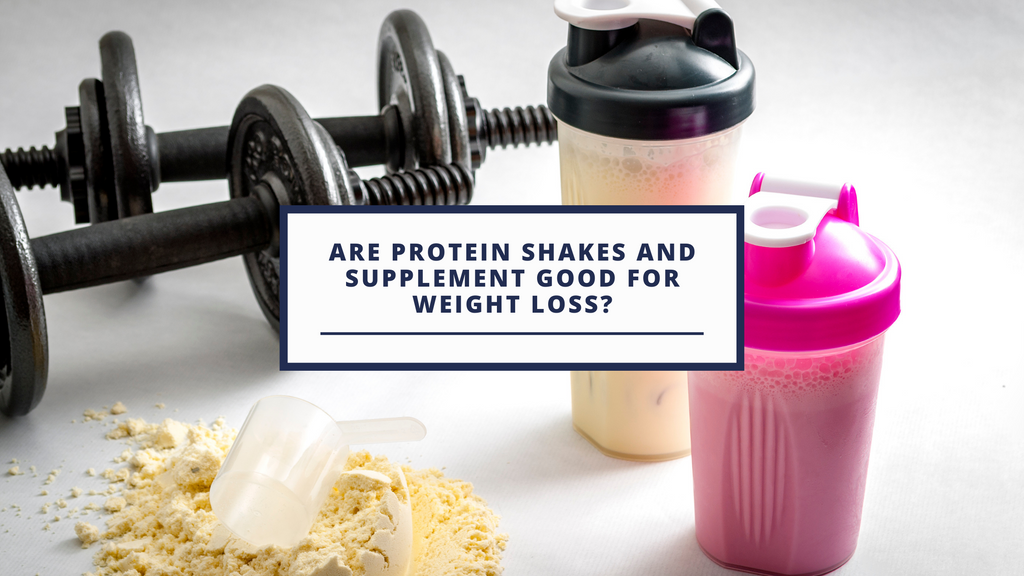 There are many things people are willing to try when it comes to weight loss. Sticking to a sweaty cardio routine, hitting the weights at the gym and watching your diet, maybe the top three. However, other things, like adding protein supplements to your diet, can also help accelerate your weight loss journey.
What Are Protein Supplements?
Protein supplements, most often taken in the form of protein shakes, are simply drinks that you can make by mixing your favorite protein powder with water. To make things little interesting, many people opt for adding other ingredients to this mixture as well.
You can add anything like berries, spinach, nuts, seeds, banana, or even dates to enhance the flavor and nutrients. Make sure that your calorie count is in check as you add to the ingredient list of your protein drink.
They work as an excellent addition to the diet because they are convenient. When your access to high protein foods is limited or you are too busy, consuming these drinks to fulfill your protein supplement requirements is a good idea!
Most people need protein supplements equivalent to the amount of 0.5 grams per pound of their body weight. But you have to keep in mind that those who indulge in other heavyweight and high-intensity exercises may need more than an average individual who wants to lose weight.   You can read our guide to how much protein you need based on your level of physical activity here.
Many people do not need extra protein supplements to fulfill the daily protein goal. However, the intake of these can benefit you in more than one way.
Some of the popular types of protein powder that you can pick from have been listed below.
Whey protein: It is absorbed faster and is dairy-based. Contains all the essential amino acids

Casein protein: it is absorbed slowly and is dairy-based. Contains all the essential amino acids

Soy protein: It is plant-based and contains all the essential amino acids. It also contains soy isoflavones, which may provide several other health benefits

Hemp protein: It is plant-based and very high in omega-3 and omega-6 fats. However, it has low amounts of the essential amino acid lysine

Rice protein: It is plant-based and low in the essential amino acid lysine

Pea protein: It is plant-based and low in the non-essential amino acids cysteine and methionine

Collagen protein: it is animal based, absorbed fast and non-dairy. Contains 8 of 9 essential amino acids, plus BCAA.    Offers benefits outside of traditional muscle growth and development such as reduced joint pain, easier digestion, plumper & more hydrated skin & strong hair & nails.  Find out some of the benefits on our blog post here.
You can choose any protein powder of your choice to add to your diet. Various brands mix different types of protein powder to give an additive effect. For example, many plant-based brands of protein supplements combine different types to complement each other's amino acid profile. This helps them to come up with a single mixture that encompasses all the goodness into one.
Is It True That Protein Supplements Help In Weight Loss?
Many people are crazy about consuming protein drinks. Since there are several benefits of having a protein shake that once you start working out, it becomes a staple part of your diet.
One of the most common advantages that guides people towards the consumption of protein shakes is a common perception that they help you to lose weight. 
Consuming protein drinks is not an easy or magical way to weight loss. There is nothing that protein shakes can do that assists your body to shed weight miraculously, but they can be part of a holistic plan as part of a balanced diet and comprehensive training plan.
Protein supplements do not single-handedly help you lose weight. They make the process easier and work best as a catalyst when added to your diet.
What To Start With – Training The Mind First, Body Later
You must keep in mind that once you want to lose weight, a large part of it will come from positive thinking. We all know that having good energy and motivation is the first step towards feeling good inside your skin. You cannot step on the weighing scale every day with bad energy.
Your positive energy and motivation have a more significant influence on your overall health than you may want to believe. So it's clear that to stay consistent with your body goals, you have to start small by keeping your mind and soul energized and driven towards your weight loss journey.
We all know that losing weight is somewhat confusing and challenging, but you don't have to lose hope. Keep pushing, and you will get there one day!
By attuning our bodies to a certain lifestyle that is both healthy and enjoyable, we can achieve our goals much better and in a shorter time.
How Do Protein Supplements Help In Accelerating Weight Loss?
Muscle BuildUp and Preservation
Your Muscle Protein Synthesis (MPS) starts working at an optimal rate once you consume a protein shake after an intense workout. MPS is a biochemical reaction that your body requires for efficient muscle buildup.
Our muscles undergo vigorous cycles of breakdown and buildup throughout our lives. However, to speed up muscle building and preservation, our body has to make sure that the buildup process outweighs the breakdown process. Thus, by consuming protein supplements, you can give your body the right hit to build ample muscles.
Many people who indulge in strength training are worried that losing fat content can slowdown their muscle buildup process. However, by consuming protein drinks and tracking your macros, you can easily overcome this.
Improving Energy levels
When there is an increase in your muscle mass and a rapid decline in your body's fat content, you will see your energy levels plummet. With higher energy levels, you can work out for a longer duration. Longer workouts mean that you burn more calories and hence, lose more weight.
Your body's adaptive response to a decrease in fat percentage and an increase in muscle content shows how well your body can sustain during resistance training and high-intensity circuits. Thus, having a good amount of protein shake in the morning or before bedtime helps your body to achieve higher energy levels.
Enhanced Sleep Quality
We all know that high-stress levels and a poor sleep cycle have a significant impact on our weight. Stress and minimal sleeping hours result in the fluctuation of some hormones inside the body that have a negative effect on our health as well as our weight.
You will normally observe that as soon as your stress increases or you start having poor sleep quality, your weight tends to increase. Therefore, protein supplements are known to improve sleep quality and lower stress levels. Don't know how? Well, you're about to find out!
Once you consume a protein drink, your body starts releasing the amino acid tryptophan into the blood. Tryptophan has the two following functions, which have a cumulative effect on our weight.
It releases the happy hormone, serotonin
It releases the sleep-inducing hormone, melatonin.
These two hormones start circulating in our blood, which improves the quality of our sleep. We tend to feel more relaxed and also enter deep sleep comfortably after a long day. Moreover, it also brings down the stress levels, so the amount of cortisol (also called the stress hormone) levels stay within appropriate limits.
We mentioned about deep sleep earlier. Deep sleep is also known as NREM (Non-Rapid Eye Movement) stage. During NREM sleep, our brain starts producing sufficient quantities of Human Growth Hormone (HGH). With high circulating levels of HGH in the blood that consequently go into your muscles, the tissue repair and regeneration process improves massively.
Helps You Feel Fuller
Many people who have trouble losing weight cannot do so because they have times when they are binge eating. They crave so much food that they cannot stop themselves from eating.
The great thing that protein drinks do is that they reduce hunger pangs. The hormone responsible for causing hunger pangs is ghrelin. Instead of promoting ghrelin, protein drinks boosts the production of leptin, which is the satiety hormone.
With greater levels of leptin circulating in your blood, your brain is tricked into believing that your body doesn't need food anymore. It gives you the feeling of being fuller, which is a great way to cut down on consuming unnecessary calories.
Speedy Muscle Recovery
Having a protein drink before going to sleep shows excellent results linked with post-workout recovery. After a hard day of hitting cardio and weights at the gym, your muscles need time to replenish and nurture before they can start growing.
The protein drink consumed before bed helps your muscles to recover because it digests easily. After reaching your bloodstream, your cells can effectively use it to increase the whole-body protein synthesis for easier recovery and growth.
Burning Belly Fat
Having protein shakes helps you control your appetite and get rid of stubborn body fat. When we hear about stubborn body fat, the first thing that may pop up inside our head is most likely to be belly fat. Therefore, with the regular use of protein drinks, you can burn the extra calories that will reduce your belly fat.
While you are on a high protein diet, your body promotes the oxidation of fats that makes fat loss is easier. Losing belly fat from around your waist is important because it is associated with a high risk of developing various chronic diseases.
Metabolism Booster
When you increase energy expenditure, you boost your metabolism rate. A highly functional metabolism is linked with rapid weight loss. Consuming protein drinks helps with a good metabolism boost in two ways.
Firstly, as you consume proteins rather than carbs or fats, your body requires more energy to digest it. As you consume more energy, you burn calories to digest the protein. The metabolic response that the body exhibits after protein digestion is knowing as diet-induced thermogenesis (DIT).
Secondly, protein drinks are loaded with a high number of essential amino acids. These stimulate your body to perform gluconeogenesis, which is a process that converts excess proteins in the body to glucose. As the process of gluconeogenesis proceeds, your body burns more calories in this process.
How Can You Track Calories?
Most foods that you buy have the calories printed on them. Check the nutrition fact sticker on your food products to get a clear idea of the macros you're consuming. Actively count your calories and track them.
You can note them down, or an easier way is to keep them on your phone. There are many apps that let you track your daily calorie count. This makes your work easier, and you do not have to waste time manually counting your calories.   Foodvisor is actually an app that calculates the calories in a meal, just by you taking a photo.   You can track your calorie consumption throughout the day, just by taking pictures with your phone.  Easy!
What Else Do You Need To Lose Weight?
We talked about protein supplements. But in the start, our main focus was towards stating that the consumption of protein supplements alone cannot help you to shed extra pounds miraculously. You have to do much more to keep your body in shape.
An easy way to do this is to track your calories, as we mentioned above. You will know the macros you're consuming and the calorie deficit you are maintaining. This will make your protein drink consumption feel even more effective.
Besides this, you should definitely workout. Abs are made in the kitchen, but the ab lines become more defined and prominent in the gym. You have to make sure that you are working hard enough during your workouts.
Indulge in strength training, resistance training, and bodybuilding exercises—these help to lose weight faster while also building muscle. Ask your trainer for a tailored workout routine. Make sure that you do not skip the gym and stick to your routine.
You have to keep in mind that there is no easy path to lose weight. Consistent training and perseverance is the key!
Still looking for a protein supplement and a hydrating protein drink to fit into your routine?  Head over to our shop to check out our selection of collagen based protein waters.  Find out more about Vieve here.  
Vegans struggling with your protein intake?  Now available in a plant-based Vegan Protein Water version.