Move Over Whey Protein – Here Comes Collagen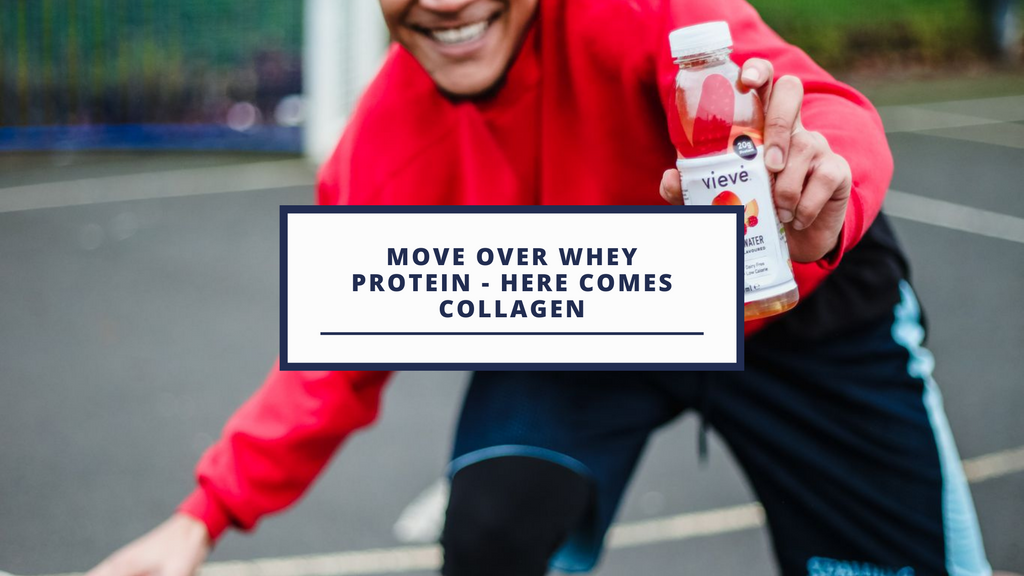 Move over whey protein – here comes collagen
Has whey had its day? Dietitian, Dr Carrie Ruxton, looks at a new protein ingredient for supplements and drinks
Pick up any protein powder and you will find it chock full of whey. While this has been a useful and nutritious ingredient for supplements, it's not always brilliant for drinks unless you want a milky option and can put up with the bitter taste.
Step up collagen, a clear, easily digested protein source with emerging evidence that it targets growth in lean body mass (more on this later).
Know your proteins
Protein can be confusing so I've presented some key differences between whey and collagen in the following table: 
| | | |
| --- | --- | --- |
|   | Whey | Collagen |
| Made from | Milk – whey is left when the casein part is removed for cheese making | Gelatine – animal proteins manufactured from beef, pork and fish by-products |
| Protein types | Whole protein which needs to be broken down into amino acid building blocks by the body | Peptides (short protein chains) which need less digestion before being absorbed.   |
| Taste | Bitter[1], which means you need to add vanilla, chocolate or sweeteners to mask the flavour | Neutral, so more palatable with a range of flavours |
| Colour and solubility | Cloudy and not very soluble so works best in milky-type drinks or cereal bars | Colourless and soluble so you can add to clear liquids, gels or solids |
| Key benefit | Contains all the amino acids necessary for health | Lower levels of amino acids but all the main types needed for  health and more digestible |
Amino acids explained
While we talk a lot about protein, your body actually uses amino acids which are the building blocks of protein. In fact, a protein molecule is a bit like a chain made of amino acid beads.
When we eat a protein-rich food, like a steak or whey protein shake, the long complex protein chains are broken down in the gut to form peptides (small and medium chains). Finally, these peptides are chopped up into individual amino acids.
However, the small peptide chains found in collagen take a short cut and are absorbed directly while the medium peptide chains are broken down directly into amino acids.
This explains why collagen is more easily digested and absorbed than whey protein or steak.
A study in humans given collagen to eat[2] found that small peptides started to appear in the blood after just 15 minutes and peaked at 60 minutes. That's pretty impressive digestive power.
Another way at looking at digestion is to check how much protein is lost by the body in urine and faeces. After all, there is no point eating lots of the stuff if it just goes out the other end! A study in older women found that more protein was lost after they ate whey supplements compared with collagen but, nevertheless, muscle mass stayed constant on the collagen-enriched diet[3].
Looking at the individual amino acids found in collagen, there's a strong emphasis on glycine, arginine and proline. Glycine and arginine are used by the body to make creatine[4] which supplies energy to working muscles, while proline improves blood flow and supports soft tissues like cartilage and tendons[5].
Collagen research
Apart from knowing that collagen had something to do with beauty products and a lack of the stuff probably explains my wrinkles, I must admit that I was totally unaware of any clinical research on exercise. That has now changed.
A 2015 study published in the British Journal of Nutrition[6] took 53 elderly unfit men and gave them either collagen peptides (15 grams daily) or a placebo. The men from both groups then took part in regular exercise over a 12-week period.
At the end of the study, all men showed benefits in terms of muscle mass, lower body fat, strength and bone quality. However, the best results were seen for the men on the collagen supplement. The authors concluded that the collagen helped to boost muscle mass and reduce body fat.
Another clinical trial on 120 healthy younger men has now been done which shows similar results[7]. This time the collagen peptide supplement has been compared with whey protein isolate (both 15 grams daily). As this study is yet to be published in a peer-reviewed journal, I'm waiting to see how the results are received by experts in the field.
Certainly, the initial research on collagen is exciting and I'll now be watching it with interest.
Still looking for a collage based protein supplement and a hydrating protein drink to fit into your routine?  Try Vieve!  We are the UK's first high-protein drink to use hydrolysed collagen peptides as its primary protein source.  
Head over to our shop to check out our selection of protein waters here.  Our range of protein water drinks are available in the UK at Amazon, Ocado & Holland & Barrett. Find out more about Vieve here. 
Also have you tried our new  collagen powder?  Simply add a tablespoon to get an instant 13g protein boost!  Mix it into your favourite food and drinks without impacting the taste, while getting a pure hydrolysed collagen peptide boost.  With zero fat, sugar or dairy its easiest way to get your protein boost without impacting your macros.  Plus it comes in 100% recyclable packaging and is 100% sourced from EU, grass-fed, pasture-raised cattle.
About Dr. Carrie Ruxton: 
Carrie Ruxton is a registered dietitian with more than 25 years' experience in nutrition and health.
Since 2003, she has headed a consultancy, Nutrition Communications, which offers nutrition and communications advice to food and beverage companies, and trade bodies. Formerly, Carrie worked as an academic, hospital dietitian and industry nutritionist.
Carrie publishes widely in scientific journals, textbooks and magazines, as well as writing audits and strategies for the public sector. She has won three awards for her writing, including the British Dietetic Association's Elizabeth Washington Award. From 2007-2015, she served on the Scottish Food Advisory Committee.
Carrie is a regular contributor to national newspapers, magazines, radio and TV. In recent months, she has appeared on Food Unwrapped, Rip Off Britain and Sunday Morning Live as well, as more recently, BBC Two's Food Detectives.
References:
[1] www.ncbi.nlm.nih.gov/pubmed/22809256
[2] www.ncbi.nlm.nih.gov/pubmed/16076145
[3] www.ncbi.nlm.nih.gov/pubmed/19465192
[4] www.livestrong.com/article/508708-use-of-l-glycine-by-the-human-body/
[5] www.livestrong.com/article/456822-proline-amino-acid-benefits/
[6] www.ncbi.nlm.nih.gov/pmc/articles/PMC4594048/
[7] Data provided by Gelita. Trial registered here www.drks.de/drks_web/navigate.do?navigationId=trial.HTML&TRIAL_ID=DRKS00008925