Easy High Protein recipes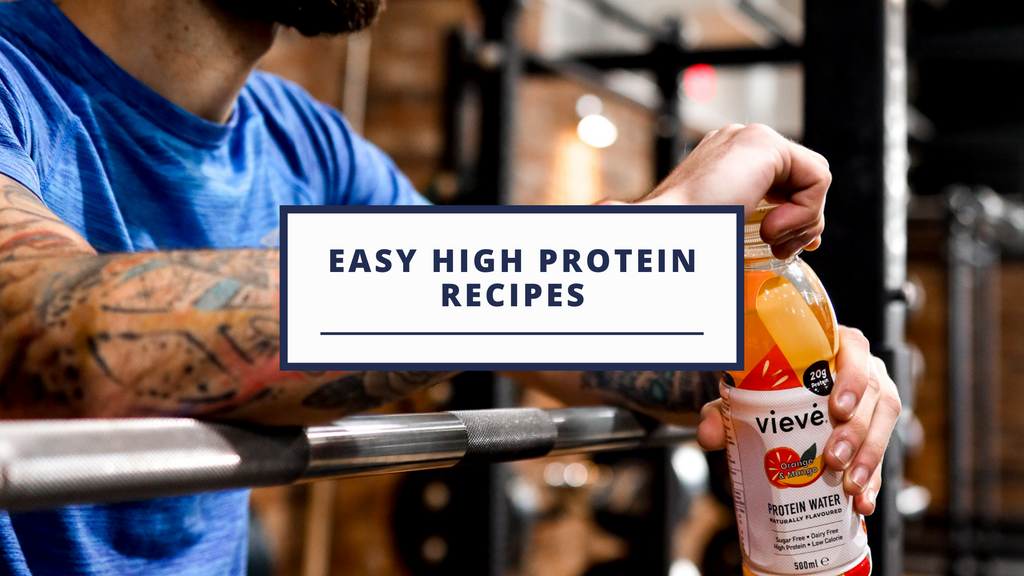 Protein is an essential part of any diet, it allows us to build up muscle mass, keep focus on daily tasks and stay energised. At Vieve we strive to make protein easy to consume and we've collected our favourite recipes to spruce up your protein intake in fun and easy ways.
Profee
Protein and Coffee join forces in the ultimate breakfast drink – profee. Profee allows people a convenient way to start the day, with the caffeine energising your morning schedules and protein helping with focus alongside staving off any hunger. Health experts are also behind the drink as a great way to gain some extra protein, so long as you avoid the syrups and sugars that coffee drinkers are tempted by.
Here at Vieve we've found a great way to create profee using our own collagen powder:
Ingredients:
2tsp – Coffee powder
2 tsp – sugar
1 tbsp – Vieve collagen powder
200 ml – hot water
50 ml – almond milk
Ice
Method:
Stir the coffee, sugar and collagen powder with hot water in a glass
Fill the glass with ice (for stronger results put some coffee in an ice cube mould the day before and make your own coffee cubes)
Top off with some milk and enjoy you profee with an extra 13g of protein!
Protein lollies
At Vieve we love to make protein refreshing and we've made this even easier with our protein waters. Yet, if you wanted to take another step forward our protein ice lollies are the perfect treat for those hot days; especially when the heat makes getting that daily protein intake harder.
What you'll need:
1 Vieve protein water
An ice lolly mould
Method:
Pour Vieve protein water into ice lolly moulds and let set overnight. When ready to eat rinse the mould with warm water to make the lolly easier to remove and enjoy!
Avocado toast
An Instagram marvel, avocado toast has become a breakfast staple the only thing it misses is the extra kick of protein. While protein can be added through topping with an egg or some meat, if you're sticking to the classic recipe we have a method that gets you an extra 13g of protein on each slice.
Ingredients:
1 ripe avocado
½ tsp paprika
½ tsp pepper
Pinch of salt
1 tbsp vieve collagen powder
2 slices sourdough bread
Method:
Mash up the avocado flesh with the back of a fork and once mashed stir in collagen powder
Next stir in paprika, pepper and salt
Toast the sourdough and spread on the avocado, enjoy!
Protein jelly:
This is by far the easiest two minute high in protein treat you can create. It only takes two ingredients making it perfect for anyone who struggles in the kitchen. Plus our Vieve protein waters make it a delicious post workout treat.
Ingredients:
One bottle Vieve protein water
Any flavour jelly cubes
Method:
Pour the Vieve water into bowl and set aside
Put the jelly cubes into a bowl and microwave for 20 seconds
Pour melted jelly cubes into the protein water and stir until combined
Once combine put into moulds and let set in the fridge, enjoy!
Protein balls:
Protein balls make snacking on the go easy and energising, these protein balls will have you feeling full for longer. Also, with the extra peanuts and oats added to the mix they're packed with extra protein.
Ingredients (makes 24):
3 cups oats
1/2 cup vieve collagen powder
1 cup peanut butter
1/2 cup maple syrup
1-2 tbsp almond milk
1/4 cup chocolate chips
Method:
In a mixing bowl stir together oats and the collagen powder, then stir in chocolate chips peanut butter and syrup.
Once combined add in milk of choice one table spoon at a time until a thick dough is formed
Wet hands and form dough into balls on a tray and let set in the fridge.
Struggling with any of these recipes?
Not everyone can be a whizz in the kitchen, head to our tiktok (@drinkvieve), we have videos on each of these recipes which you can follow along. If you manage to make any make sure to tag us on our socials.
To get started head to our shop for some ingredients - https://drink-vieve.co.uk/