Busting Common Collagen Myths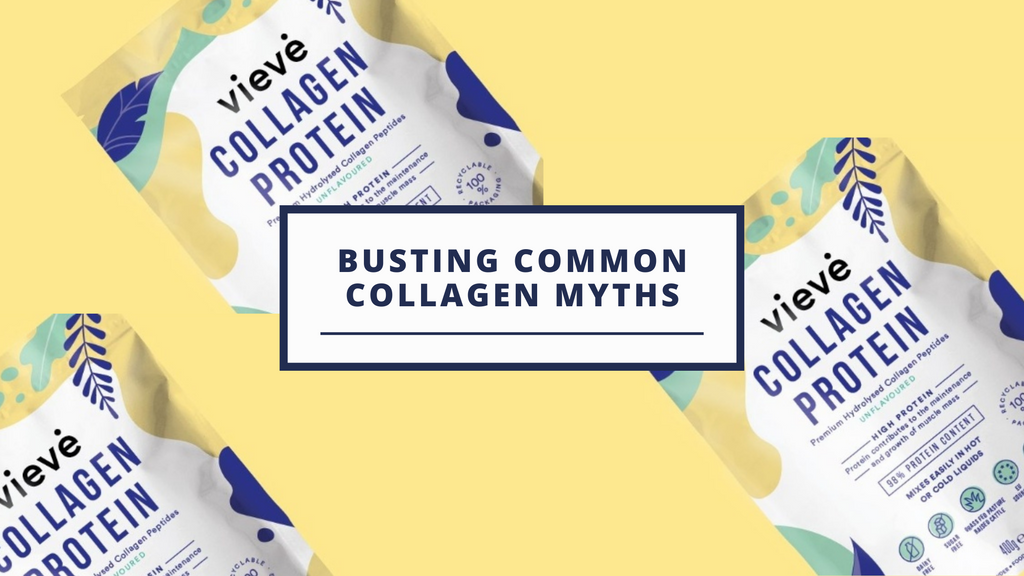 Collagen is a fibrous protein that makes up a third of all our protein in our bodies, it helps keep the body together; providing a great foundation of strength. Collagen can be found in our bones, muscle, skin and tendons, natural collagen is known as endogenous collagen which helps out with lots of functions in the body. However, Collagen that is found by an outside source is known as exogenous collagen. There are lots of benefits that come from exogenous collagen, this article will go through the facts and bust some collagen myths!
MYTH #1: Collagen is only for cosmetics
It's true that collagen is hot on the market right now within the cosmetic world, with influencers boasting its powers on youthful and plump skin. However, collagen goes deeper than the skin and has lots of remarkable effects on the rest of your body such as:
Help with injury: A study done by the Centre for Applied Health Sciences found that collagen can aid in allowing injury's to heal quicker which in turn should also ensure better performance

[1]
Read about how Vieve has helped Charlotte with her post-op recovery here: https://drink-vieve.co.uk/blogs/news/how-vieve-is-helping-me-recover-post-op
Heart health: Collagen also strengthens our arteries, being low in collagen may affect how well blood is moved around our body. Also, if collagen strengthens the way our heart works this will also diminish chances of a heart attack or stroke.

[2]

Joint pain

[3]

: Having a low amount of collagen in our body may also affect our joints; a lack of collagen can lead to osteoarthritis and joint pain. Taking collagen supplements can strengthen our joints and help relieve joint pain that occurs with these disorders
In fact Vieve's collagen powder has provided a great source of help to Greta who suffers from Fibromyalgia and Osteoarthritis and has used Vieve to help get her energy back. Read about her experiences here: https://drinkvieve.co.uk/blogs/news/how-vieve-is-helping-me-get-my-energy-back
MYTH #2: Collagen isn't absorbed by the body
In order for collagen to be absorbed by the body they must be broken down into smaller peptides. This is where collagen supplements step in as they are already broken down; these are then absorbed within the gastrointestinal tract where they can be used by the body.[4]
Collagen can also be absorbed by what we eat, meat that has connective tissues are a great source of collagen. Since this collagen cannot be absorbed in its whole form plant and animal proteins are great at aiding our body's natural collagen production.
What is great about our bodies is that the peptides that we gain from collagen in our food or supplements can also help create other proteins our bodies need. So whatever your body is lacking there is a natural list of priorities that will be checked off.
MYTH #3: You should only use collagen over 40
According to Dr. Renée Moran[5] our body's production of natural collagen starts to slow down as early as our 20s, we can lose around 1% to 2% every year. This decline leads to our skin starting to age, our joints wearing out and other areas of our body to decline.
Our collagen production can also be affected by a number of other factors such as smoking, being in the sun, what we eat and drink and our family genetics.
So to ensure our bodies collagen is still in great working order by our 40's start boosting your intake early.
MYTH #4: There are no environmental benefits to bovine collagen
It is becoming increasingly clear that the meat industry has become more and more damaging to the environment as land becomes harder to sustain. Despite this, bovine collagen can be considered a sustainable option for two reasons:
How we utilise cattle: Collagen protein is created from parts of the body that aren't useful for the food and beauty industry. By utilising these by-products of our cattle we are maximising the amount of use we get from livestock which otherwise would have been wasted.[6]
Top soil regeneration: there's no doubt that intensive cattle farming is damaging to the environment. However, bovine collagen that is sourced from grass fed, pasture raised cattle that use sustainable agriculture methods, are very good for our soil regeneration. Which means promising things for both soil fertility and carbon stocks leading to mitigations in climate change (Vieve's collagen powder uses these methods)
MYTH #4: Collagen isn't useful for building muscle mass:
A study done in the nutrition department at the University of Freiburg[7] has found the effectiveness of using collagen to build muscle. The study involved the participants enduring an hour of resistance training three times a week with a combination of collagen peptide supplementation. The findings resulted in the participants having a much more pronounced body composition and muscle mass. This was also in comparison to the other subject group's one which took a placebo and the other that took a placebo alongside resistance training.
MYTH #5: All collagens supplements do the same thing
While it is true that there is no clinical research[8] on bovine collagen being the same as marine bovine there are differences in how well different collagen proteins are ethically produced and the quality of the product.
What sets Vieve apart?
Made from pure hydrolysed peptides, which makes it easy to be absorbed by the body
Great quality is guaranteed as our collagen has no extra additives and is even lab tested for purity
Packaging is 100% recyclable which makes our collagen powder a more sustainable choice.
Fun fact: Collagen is stronger than steel
Collagen fibres are packed tightly side by side in bundles; these fibres that are found in tendons connect our muscles and can withstand incredible forces. In fact gram for gram collagen is stronger than steel.[9]
After all that myth busting I think it is pretty clear collagen packs a load of benefits helping your: muscles, joints, heart, skin and much more. Also, with supplements making it easier than ever to add collagen to your daily meals there is no reason why your body can't take part in all its goodness.
Our hydrolysed protein collagen powder makes it easy to boost your everyday protein intake.  Simply add a scoop of protein powder to everyday food & drink for an instant 10g protein boost.   If you want an extra kick of protein in your meals check out our shop: https://drink-vieve.co.uk/
[1] Lopez, Hector L et al. "Evaluation of the Effects of Bio Cell Collagen, a Novel Cartilage Extract, on Connective Tissue Support and Functional Recovery from Exercise." Integrative medicine (Encinitas, Calif.) vol. 14, 3 (2015): 30-8. www.pubmed.ncbi.nlm.nih.gov/26770145/
[2] Liu X, Wu H, Byrne M, Krane S, Jaenisch R. Type III collagen is crucial for collagen I fibrillogenesis and for normal cardiovascular development. Proc Natl Acad Sci U S A. 1997;94(5):1852-1856.
[3] Crowley DC, Lau FC, Sharma P, et al. Safety and efficacy of undenatured type II collagen in the treatment of osteoarthritis of the knee: a clinical trial. Int J Med Sci. 2009;6(6):312-321.
[4] "Collagen Supplementation: Is It All Hype?" Food Insight, 11 June 2019. www.foodinsight.org/collagen-supplementation-is-it-all-hype/
[5] "Common Myths about Collagen – Plus, the Products You Should Be Using." FabFitFun, 21 Jan. 2021, www.fabfitfun.com/magazine/common-collagen-myths/
[6] Fu, Yu et al. "Exploration of collagen recovered from animal by-products as a precursor of bioactive peptides: Successes and challenges." Critical reviews in food science and nutrition vol. 59,13 (2019), https://pubmed.ncbi.nlm.nih.gov/29394086/
[7]  Zdzieblik D, Oesser S, Baumstark MW, Gollhofer A, König D. Collagen peptide supplementation in combination with resistance training improves body composition and increases muscle strength in elderly sarcopenic men: a randomised controlled trial. Br J Nutr. 2015;114(8):1237-1245.
[8] "6 Collagen Myths—BUSTED!" Genuine Health, www.genuinehealth.ca/blogs/genuine-hub/6-collagen-myths-busted
[9] Lodish H, Berk A, Zipursky SL, et al. Molecular Cell Biology. 4th edition. New York: W. H. Freeman; 2000. Section 22.3, Collagen: The Fibrous Proteins of the Matrix. Available from: www.ncbi.nlm.nih.gov/books/NBK21582/