Transform Your Health with Protein Collagen Powder: Vieve's Expert Guide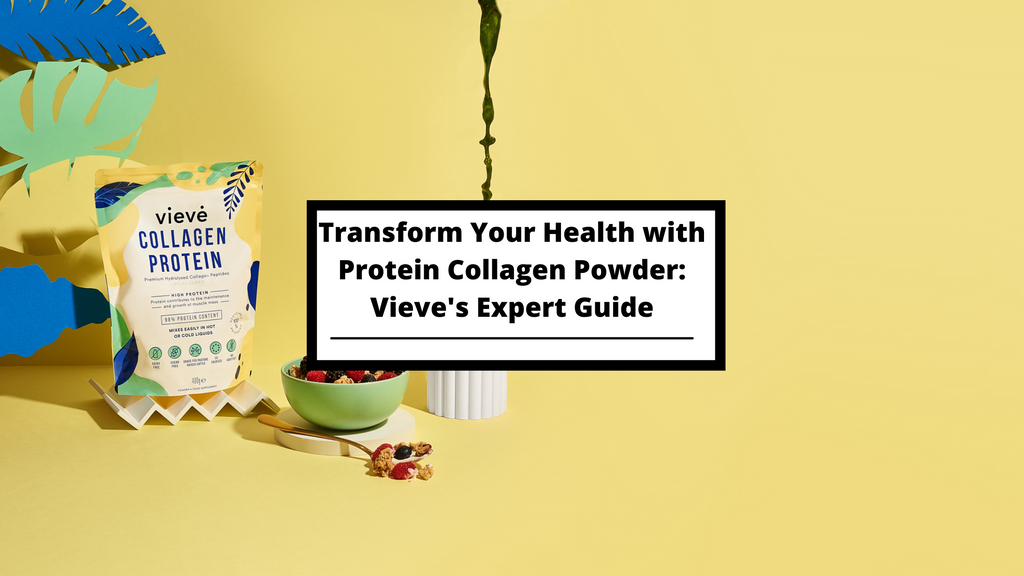 In recent years, protein collagen powder has gained popularity as a versatile and beneficial supplement for health-conscious individuals. With so many options on the market, it's crucial to choose a high-quality products to ensure you're getting the most out of your investment in your health. In this guide, we'll explore the benefits of protein collagen powder and reveal why Vieve's premium supplements are the top choice for those seeking optimal health and wellness.
What is Protein Collagen Powder?
Protein collagen powder is a nutritional supplement that combines the benefits of both protein and collagen. Protein, an essential macronutrient, is crucial for building and repairing muscles, while collagen is a vital structural protein found in connective tissues, skin, hair, and nails.

Collagen powder is typically derived from animal sources such as bovine or marine collagen. When combined with a high-quality protein source like grass-fed whey, as in Vieve's protein collagen powder, you get a powerful supplement that supports various aspects of your health.
If you want to understand how much collage you should consumer head over to our blog post here.
Benefits of Protein Collagen Powder
Muscle Building and Repair
Protein is essential for muscle growth and repair, making it a crucial component of any fitness enthusiast's diet. Combining protein with collagen, which also plays a role in muscle health, creates a potent supplement for those looking to improve their athletic performance and support muscle recovery.
Improved Skin, Hair, and Nails
Collagen is a critical component of our skin, hair, and nails]. As we age, our bodies produce less collagen, leading to wrinkles, sagging skin, and brittle nails. By supplementing with protein collagen powder, you can help support your body's natural collagen production and maintain a youthful appearance.
Joint Health and Bone Strength
Collagen is also essential for maintaining healthy joints and bones. Supplementing with protein collagen powder can help support joint health, reduce the risk of injury, and improve bone density, which is particularly important as we age.
Other Potential Health Benefits
Some studies suggest that collagen supplementation may have additional health benefits, such as supporting gut health, improving sleep quality, and promoting heart health. While more research is needed to confirm these findings, it's clear that protein collagen powder is a valuable addition to any health-conscious individual's supplement regimen.
Why Choose Vieve's Protein Collagen Powder?
High-Quality Ingredients
Vieve's protein collagen powder is made with grass-fed EU sourced  hydrolyzed collagen peptides, ensuring a premium, nutrient-rich product. The combination of these high-quality ingredients provides a powerful supplement that supports muscle growth, skin health, joint health, and more.
Transparency and Safety Standards
At Vieve, we prioritize transparency and safety in all our products. Our protein collagen powder is manufactured in a BRC-certified facility, ensuring the highest quality and safety standards. We also provide clear labeling and ingredient information, so you know exactly what you're putting into your body.  There are also no additives or additional "nasties" in our collagen protein powders: just 100% hydrolysed collagen peptides.
Delicious Flavour and Easy-to-Use Format
Vieve's protein collagen powder can be easily mixed into water, milk, or your favourite smoothie for a tasty and nutritious boost.  You can also add it to your favourite foods such as curry or your spaghetti bolognese for an easy 10g protein boost.
How to Incorporate Protein Collagen Powder into Your Routine
To get the most out of your protein collagen powder, follow the suggested serving sizes and usage tips provided on the packaging.   Each serving 10g protein with zero sugar, fat or dairy and only 50 calories.  You can also get creative by incorporating the powder into various recipes, such as protein bars, pancakes, or even homemade ice cream.
Conclusion
Protein collagen powder offers numerous benefits for your health, from supporting muscle growth and repair to promoting youthful skin, hair, and nails. By choosing Vieve's high-quality, transparent, and delicious protein collagen powder, you can confidently invest in your health and wellness journey. Give Vieve's protein collagen powder a try and experience the benefits for yourself!

Our collagen powder makes it easy to boost your prtiein intake without the added fats, sugars, dairy or excess calories.   Just add a scoop of protein powder to everyday food or drink for an instant 10g protein boos!