Sports Supplements: Protein Smoothie or Protein Water?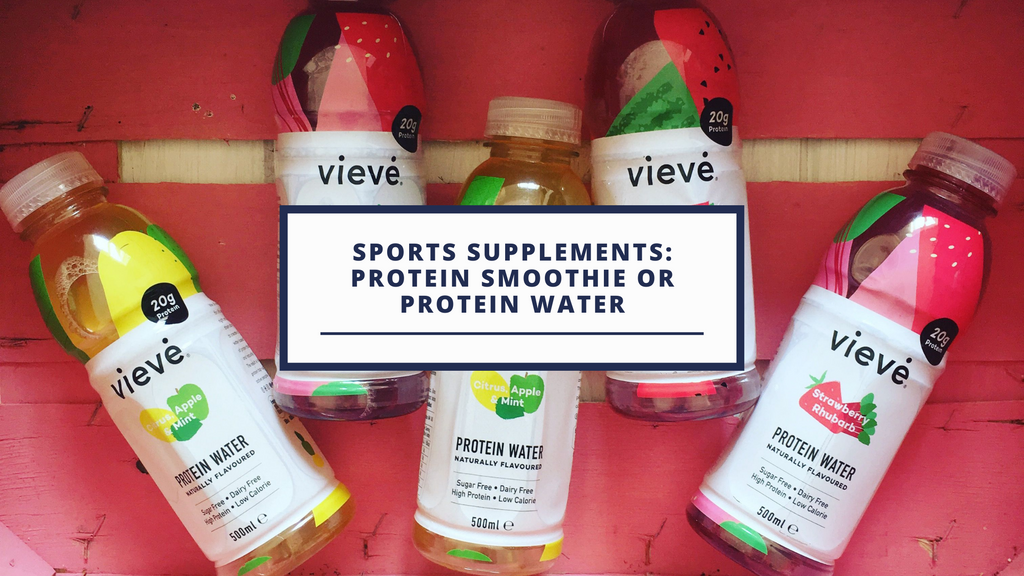 Protein Smoothie vs Protein Water
Creatine, beta-alanine, amino acids, whey protein,even caffeine! Sports supplements have been aiding us to achieve our fitness goals, from improving our endurance in long workouts to burning fats in short bouts of exercise. 

Among these sports supplements are protein drinks. Protein is known to provide fast recovery after a workout. It also helps prevent unnecessary snacking if you start your day with a lot of protein. That is why these protein drinks are known to aid fitness enthusiasts in their workouts and help people who want to lose weight. Here we have listed the basic facts you need to know about the two most popular protein drinks, protein smoothie and protein water.


Protein smoothies as the traditional protein drink

Protein smoothies have been around since we discovered the benefits of protein powder to promote muscle growth and recovery. Gym goers have included drinking protein smoothies as part of their pre-workout or post-workout routines. Some might have occasionally held their noses when they drink or changed several ingredients to mask the flavour of protein.  But even with its bitter taste, protein smoothies are considered to be the traditional protein drink that people go to when they need their daily dose of protein. 

With protein smoothies, you have to note first what key ingredients you need depending on the goal you're trying to achieve. If your primary objective is weight loss, you need to lessen dairy and add more fruits and vegetables as they are low in calories and high in fibre. On the other hand, if you're more concerned about building muscles, calculate your protein and calorie intake and make sure that you're burning what you have consumed through rigorous training and exercise.

However, protein smoothies can also be high in sugar and low in protein. Most protein powders are already filled with sugar and if your smoothie is already packed with fruits and artificial sweeteners, it might not help you achieve your body goals.


Protein water as protein on the go

Protein water has been around for years but is only gaining traction today. There are many benefits that this protein drink offers people who are always on-the-go, one being the convenience it can be carried with you.It is designed to be handy and can be placed in your gym bag, drawer or car. Additionally, you don't have to carefully calculate your sugar and calorie intake and unlike protein smoothies, you don't have to load up on too many ingredients. 

If you're done with chalky powders and milky drinks, protein water is the product for you. Vieve's Collagen Based Protein Water Protein Drinks are sugar-free, lactose & dairy free and carb and sugar free. Sounds too good to be true if you're cutting your sugar intake to lose weight, but what about the taste?

No sugar and milk doesn't mean that protein water tastes terrible. Vieve Protein Water makes use of a unique collagen peptide formula that provides rapid digestion of protein by the body. Unlike whey, collagen tastes neutral so it's more palatable with a range of flavours such as strawberry, citrus and watermelon. Aside from the refreshing taste and faster uptake of protein, Vieve Protein Water provides hydration after a long strenuous workout.  

If you want an alternative drink for weight loss or if you want to boost muscle growth and preserve lean muscle mass, Vieve's Protein Water is the perfect protein supplement for you.   Our collagen based protein waters contain 20g protein, zero sugar or dairy and come in 5 amazingly refreshing fruit flavours... Its the easiest 20g protein ever!  
Vieve is the number one protein water in the UK*!  Check out our shop to choose from a variety of products that we offer or browse our website for more details about protein water.   Learn more about why you should drink Vieve here.
Also have you tried our new  collagen powder?  Simply add a tablespoon to get an instant 10g protein boost!  Mix it into your favourite food and drinks without impacting the taste, while getting a pure hydrolysed collagen peptide boost.  With zero fat, sugar or dairy its easiest way to get your protein boost without impacting your macros.  Plus it comes in 100% recyclable packaging and is 100% sourced from EU, grass-fed, pasture-raised cattle.
*Based on past three years Amazon ranking.  Vieve is 'Amazon's Choice' for Protein Waters' and the number one ranked protein water.