Protein and Weight Loss: How It Works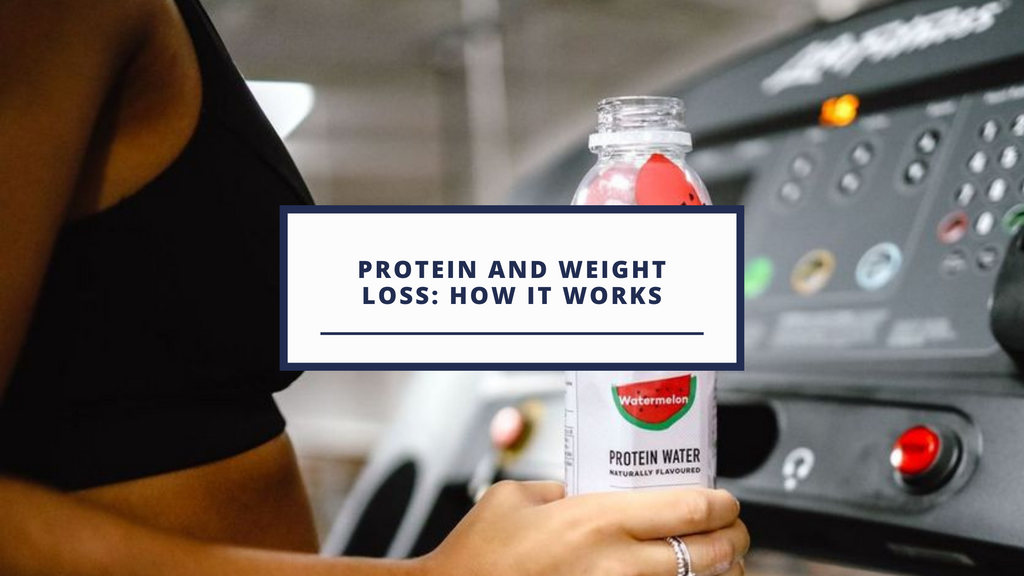 Protein has been scientifically proven as one of the key factors in weight loss. Protein works to stabilise blood sugar levels, supports muscles and bones and helps absorption of important nutrients.

We have listed other functions of protein that contribute to reducing weight and having a fit and healthy body.

Protein reduces appetite.
Diets that contain a lot of protein are highly satiating which results in reducing hunger and appetite. It helps you feel fuller longer as it slows down digestion. Studies suggest that increasing protein intake causes a person to eat fewer calories. Compared to lower protein diets, high protein diets provide a metabolic advantage that makes it easier to reduce calories.

Protein promotes muscle repair and growth.
If the road to weight loss compels you to perform bouts of intense exercise, you have to increase your protein consumption. Protein as a sports supplement can help muscle to repair and grow. Keep in mind that consuming protein solely won't amount to reducing weight and can also contribute to weight gain if taken excessively, just like carbs or fat would. It is important to balance your diet to get all the essential nutrients your body needs.

Protein slows the rise of blood sugar.
Protein helps maintain your energy levels while controlling your appetite. Because of this, you're less likely to indulge in midnight or midday snacking that may contain added calories and sugar. To help curb your appetite and battle your cravings during the day, consume a high protein breakfast.

Protein helps burn fat.
The 'thermic effect of food' is the amount of energy required to digest and process different macronutrients in your diet. It is the increase of the metabolic rate that happens after you consume food. Compared to carbohydrates and fat, protein has a higher TEF. This means that your body burns more calorie processing protein than it does with carbs and fat.

Protein prevents slow metabolism.
If you want to lose weight and gain muscles at the same time, it helps to know that losing muscle is a drawback of weight loss. What you want to reduce is body fat and not your muscle mass. Consuming protein helps prevent muscle loss by keeping your metabolic rate high while you're losing body fat. 

Protein Waters vs Protein Smoothies for Weight Loss

Protein waters and protein smoothies are popular drinks to help reduce the extra pounds. They are best consumed as a pre-workout or post- workout supplement to promote muscle repair. If you want to have a foolproof weight loss plan, strength training and protein sports supplements will help you look fit and lean.

Whether you're a serious athlete aiming to rise to the top or just a typical gym goer looking for better protein alternatives, if your goal is to boost growth of lean muscle mass then a protein drink is the right supplement for you. 

Protein water has been gaining traction because of its convenience as compared to protein smoothies which require preparation and blending of raw ingredients. It takes research and knowledge to know what kind of protein smoothies will help your workout, and spending time searching for quick-to-make DIY shakes can be time spent working out at the gym to build muscle.

Aside from that, you also have to note additives in protein powders that you're allergic to, like soy, corn starch and dairy. But you don't have to worry about these with Vieve Protein Water as it's 100% dairy, lactose and fat free.

Your easy protein solution, Vieve Protein Water helps support growth and maintenance of muscle mass and contributes to the upkeep of healthy bones. It has 20g of protein per bottle and contains no artificial flavours or colours. It is also sugar, fat and lactose free.
Please note we recommend fist and foremost if you want to lose weight to have a healthy diet consisting of a mixture of everyday food & drink derived from natural sources including lots of fruits & veggies which will help you feel fuller.
Vieve is the number one protein water in the UK*!   Vieve Protein Water is based on a hydrolysed collagen protein formula, that absorbs rapidly into the body and is easily digested unlike other protein powder or drinks.   Packed with 20g protein, zero sugar or dairy and only 80-85 calories it's an easy way to hit your macro targets.
Check out our shop to choose from a variety of products that we offer or browse our website for more details about protein water.   Learn more about why you should drink Vieve here.
Also have you tried our new  collagen powder?  Simply add a tablespoon to get an instant 10g protein boost!  Mix it into your favourite food and drinks without impacting the taste, while getting a pure hydrolysed collagen peptide boost.  With zero fat, sugar or dairy its easiest way to get your protein boost without impacting your macros.  Plus it comes in 100% recyclable packaging and is 100% sourced from EU, grass-fed, pasture-raised cattle.
*Based on past two years Amazon ranking.  Vieve is 'Amazon's Choice' for Protein Waters