What Are The Benefits Of Using Collagen Supplements?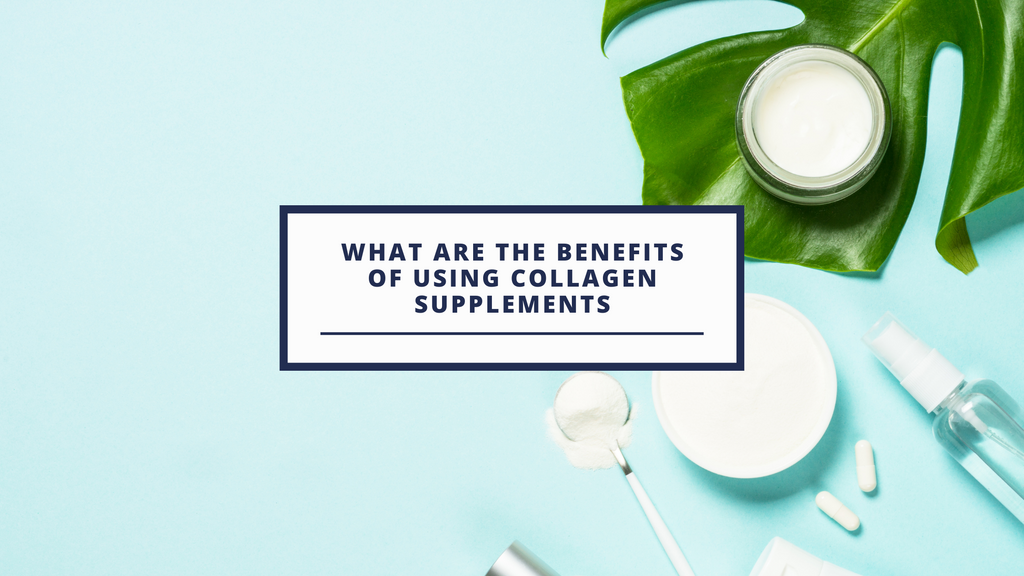 There are many compounds that help our body to stay nourished and healthy. We need them regularly so that our body functioning can be optimal, and the needs are fulfilled. One such compound is collagen that our body requires for sustaining good health of some of our body parts like our hair, skin, nails, bones and muscles.  
However, many people are still unclear about how collagen supplements help. If you are one of them, then this article will surely benefit you.
What Is Collagen?
Collagen is one of the most widely present proteins in our bodies. The sole responsibility of collagen is to maintain biological functions, which include providing structural support to our connective tissue, muscle, and skin. It is also present in our bones and tendons to give us better movement.
Collagen is also regarded as the protein that gives our skin its elasticity property. It also plays a vital part in maintaining good joint and bone health. Human bodies have the ability to create collagen naturally. However, as the body ages, the rate of collagen production slows down.
Because of the slowed rate, the skin starts to lose some of the elastic ability that helps it to maintain shape. Due to this, wrinkles appear, and our skin loses its overall freshness and youthful glow.
Collagen comprises of whopping 80 percent of our skin. It works together with another protein called elastin that helps in keeping our skin more elastic. As discussed earlier, we lose collagen as our bodies age because the body is not able to replace it.
After we turn 20, we lose one percent of collagen each year. The collagen loss process is accelerated up by excessive and harmful exposure to the sun, cigarette smoke, and pollution.
In What Form Can Collagen Be Consumed?
Many people consume collagen supplements to increase the amount of collagen to their diet. Most collagen supplements undergo the process of hydrolyzation.
This means that the supplement manufacturer breaks down the collagen into peptides while taking the supplement. Once it is in the peptide form, it is easier for our body to absorb this and use it for collagen production.
Collagen supplements are available in a wide variety. They come in the form of drinks, tablets, capsules, and powders. You can also search for many options online as well.
Collagen consumed in the form of tablets and capsules is an idea that has been in the market for years. However, using collagen powders to make a drink is relatively new.
You can add collagen powder to your smoothie or shake and enjoy the nutrient-loaded drink as a morning treat or a post-workout meal. It is an easy way to consume collagen without any harmful effects.
However, a much more convenient way is to just grab a protein drink! It's an easy on the go option for those who have a tough schedule and want to add the goodness of collagen to their daily diet. With the protein drinks at hand, you can also easily assess your calories.
Besides having collagen in drinks, you can also opt for collagen creams and masks. These supplements work best for people that are looking to yield dermatological effects of collagen. There are many dermatological benefits of using collagen, which we will discuss in one of the sections ahead.
Many collagen creams are known to boost the production of collagen and to maintain growth. However, experts believe that it is very hard to make collagen production boost in this way because the collagen is hard to absorb through the skin.
Collagen is produced in the deeper level of the skin, which is called the dermis. This layer is even lower than the epidermis. Therefore, it is very hard for collagen creams to penetrate all the way through to the dermal layer for boosting adequate collagen production.
Collagen peptides, which are also called hydrolyzed collagen, are a different type of supplement. They are composed of the same amino acids like collagen, but they tend to be absorbed more readily by our bodies.
They are easy to absorb because they are much shorter chains of amino acids than collagen. Shorter chains are easy for our bloodstream to absorb as they are digested without any issues.
Types Of Collagen And How To Use Them
Collagen supplements come in a great variety for you to choose from. A person should pick the supplement that will support their goals the most support when picking a collagen type.
The following list will tell you about some of the most commonly used types of collagen that you can choose based on your preferences.
·      Type 1
This is one of the most plentiful types present in the human body that aids in supporting healthy skin
·      Type 2
This is present chiefly in cartilage and can aid in promoting joint health
·      Type 3
This type also supports skin health by improving skin elasticity
·      Type 5
This type assists in promoting the growth of the placenta in pregnant women
·      Type 10
This type also occurs in cartilage and aids in promoting bone health and development
Many supplements that you pick will consist of several of these, along with other types of collagen. Also, in several cases, the collagen is hydrolyzed for easy absorption by your body.
What's The Best Way To Absorb Collagen?
As we read above, absorption can be a tough game when it comes to collagen. Since it is a large molecule, therefore absorption is not as easy.
Smaller peptides tend to pass more easily through our intestinal and blood barrier. The body can, in theory, utilize absorbed collagen peptides in areas that need repair the most. Therefore we have to always opt for options that have collagen peptides in the simplest forms.
Some of the best options that can help you absorb collagen in a relatively easier manner are to pick for options that have smaller peptides. Whether you are taking pills, collagen masks, creams, or powders – always go for an option with smaller peptides.
Powders are, however, the most popular option by far. But for this, you have to make sure that you carefully follow the dosage instructions given on your bottle. Another better option is to have protein drinks as they come packed with collagen.
A good drink that has all the right nutrients can give you the right kick to start your day while also fulfilling your collagen supplement needs.
Are Collagen Supplements Suitable For Vegans And Vegetarians?
Here's some bad news for vegans and vegetarians! Most collagen supplements that you will find are not vegan or vegetarian friendly since manufacturers tend to make them by using the bones and protein of animals.
However, there is also some good news for you! Vegan and vegetarian collagen options are available online that you can look for. The options are very limited and often pricey, but something is better than nothing!
Health Benefits Of Consuming Collagen Supplements
Many studies have been carried out to study the effect of consuming collagen supplements. It is considered to be a protein that helps to ensure that various processes of our body continue smoothly. Some of the processes and benefits have been listed below. 
Skin
We all know that collagen makes up about 80 percent of the dry weight of our skin. That is a lot considering the fact that we lose one percent of it every year. The loss makes our skin more susceptible to damage that leads to the loss of glow and supple look.
A study was conducted in 2015 to evaluate whether or not supplementation could increase the collagen density of skin tissue within a lab setting. The results yielded from the study suggested that supplements helped to improve both skin hydration and give a better dermal collagen network that would slow down the skin aging process.
Several studies have evaluated how skin elasticity starts to decrease after we turn 20. In a 2014 study, the sample size consisted of women aged 35 to 55 years who consumed a specific collagen supplement or a placebo for eight weeks.
At the end of eight weeks, those who took the collagen pill ended up with improved skin elasticity as compared to those who used the placebo.
Read our blog for how to restore collagen in your face.
Bone Health
The effect of collagen on bone health is a rather controversial topic. You will find many studies that confirm a potent effect of this protein supplement to aid in healthy bone growth.
A study in the 2018 study showed that consuming collagen peptide improved bone mineral density in many postmenopausal women. In addition to that, collagen supplementation was linked with a favorable increase in bone markers.
As women age, their bones become more porous which causes them to lose density. A drop in bone density makes your bones more susceptible to injury. However, with the addition of collagen supplements to your diet, you may notice a remarkable progress in your bone health.
Joint Pain
Collagen helps to boost the production of cartilage, which is a rubbery material that coats and protects our bones. Cartilage is necessary for our bodies so that our joints can move smoothly.
As we age, the production of collagen and cartilage declines steeply. There are some studies that show how collagen supplements may decrease joint pain and other concerning symptoms of osteoarthritis.
In 2019, researchers showed that there are some studies looking into the effects of collagen supplements on osteoarthritis symptoms. However, the effect of such collagen supplements on joint pain is minimal.
They are better at maintaining healthier cartilage health before your body develops a chronic condition. This means that once you cross 30, you should consume a collagen supplement that can aid in avoiding the development of any joint pain conditions.
Boosting Muscle Mass
Almost 1–10% of muscle tissue is made out of collagen. This structural protein is vital to keep your muscles strong and to ensure maximum functioning. Studies have shown that collagen supplements aid in boosting muscle mass, especially in people with sarcopenia. Sarcopenia refers to the rapid loss of muscle mass that occurs with increasing age.
Researchers also evaluated that consuming collagen may boost the synthesis of muscle proteins like creatine, as well as stimulate a much more extensive muscle growth following exercise.
Promotes Heart Health
Having a healthy heart helps in maintain various functions of the body. Therefore, researchers found that consuming collagen can help in decreasing the intensity of heart-related conditions.
Collagen gives support to your arteries that are the blood vessels responsible for carrying blood from your heart to every vital organ. Without enough collagen being made in your bodies, your arteries become stiff and fragile.
This may contribute as a risk factor towards the development of atherosclerosis, which is a chronic disease resulting from the narrowing of the arteries. Atherosclerosis can lead to a heart attack or stroke, which are life-threatening conditions.
Users who consume collagen supplements regularly often notice a marked effect in the stiffness of their arteries. This is seen by the fact that these users have a healthier blood pressure range, along with a lower chance of developing other diseases.
Additionally, collagen supplements increase the levels of HDL, which is the "good" cholesterol by an average of 6%. Having a high proportion of HDL in your blood is important for lowering the risk of developing atherosclerosis.
Promotes Gut Health and Aiding Digestion
Collagen isn't just great for hair, skin and nails it can also really benefit your digestion.    Collagen helps build and maintain the connective tissues throughout your intestinal tract.    
Collagen is beneficial to gut health because it large amounts of particular amino acids which have been shown to be beneficial.  These include the amino acids glycine, glutamine and proline which can be beneficial to the intestinal tract as well as the stomach.   Collagen is a hydrophilic molecule, which means it attaches itself to water and other acidic molecules as it moves through the digestive tract.  This assists with the breakdown of other proteins and carbodhydrates in the intestines.   Collagen has also been shown to help with Irratible Bowel Syndrome and a condition knows as 'leaky gut'.
Clearing Misconceptions – Gelatin and Collagen
Often there are misconceptions between gelatin and collagen. The two are different in many ways.
Gelatin simply refers to the cooked form of collagen. It's considered to be one of the best and most convenient ways to consume the important amino acids included in collagen.
Gelatin is processed in a way that the proteins in the compound can break down into smaller and less complex fragments. The breakdown process makes it easier for gelatin to be absorbed by our body.
Collagen hydrolysate is also sometimes referred to as hydrolyzed collagen.   This is a form of collegen which is broken down even further then gelatin, so it can be more easily absorbed by the body.  
The primary difference between these two protein compounds is how you consume them for nutritional purposes. When we have to consume gelatin, it's only possible to do so by mixing it with a hot liquid. You can then add the collagen hydrolysate mixture to solidfy or mould any dessert or candy of your choice.
On the other hand, collagen mixes well and dissolves in hot and cold mixtures both. You are most likely to use this mixture in a drink such as adding it to a smoothie, sauce, soup, shake, or any other beverage of your choice.
Vieve is the world's first high-protein drink and protein water to use collagen as its primary protein source, offering a true non-dairy alternative to whey and milk based drinks.   Each bottle contains 20,000mg of hydrolysed collagen.  
Our collagen powder mixes easily into everyday food & drink with just a tablespoon to give you an instant collagen-based protein boost.
Head over to our shop to check out our selection of protein drinks and protein waters.  Find out more about Vieve here.  Vieve Protein Water is available in the UK from Amazon, Ocado or Holland & Barrett.   Sadly not available from Tesco, Asda or Sainsbury's but we are working on it!