Can You Consume Protein Drinks While Intermittent Fasting?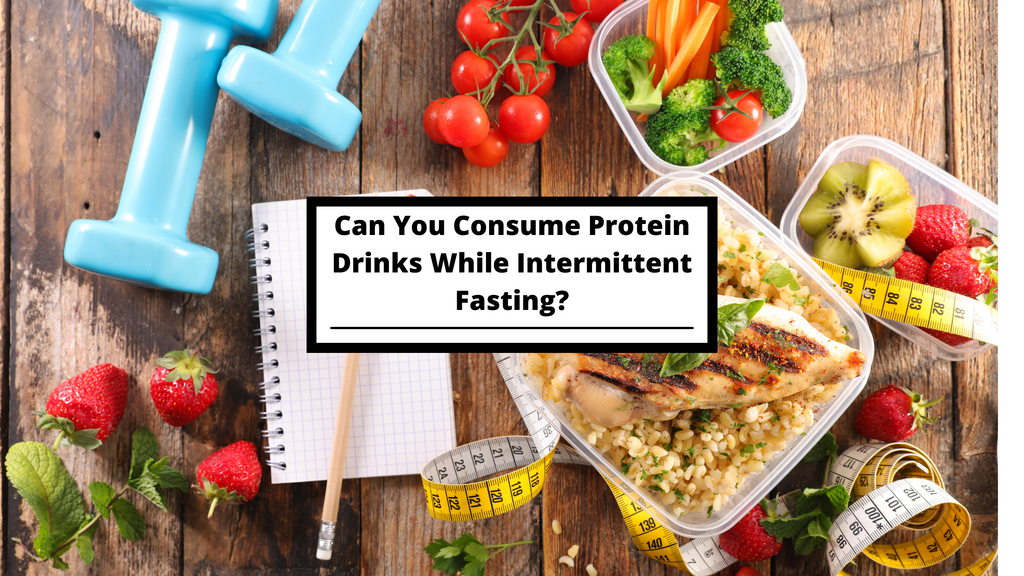 Are you trying to lose weight, but you can't do a proper diet? Then the intermittent fast is the perfect option for you. Intermittent fasting is a type of fasting in which you need to fast for some time. It helps to burn the fat deposition in the body. Among all the types of diets, intermittent fasting is one of the most popular types of diet, and with each passing day it is gaining more popularity. It is because this diet seems very easy, and everyone feels like they are in control of their diet. Every person can set their eating window and even make their own food choices. Therefore, this is perfect for many people and can easily fit into a busy lifestyle.
When you are doing any kind of dieting, it is essential that you exercise to see good results. However, during intermittent fasting, you might not have enough energy to do the exercises. Here protein drinks and protein shakes come into action. Protein shakes after a workoutand even before can be very beneficial as they give the perfect energy for you to start the exercises.
Here you will learn about intermittent fasting and how protein drinks can benefit you in intermittent fasting.
What is Intermittent Fasting?
There are several different types of diet that you can find. But all of them are focused on the food that you eat and the amount of calories that you consumer. However, intermittent fasting is based on when you will eat the food. Intermittent fasting is basically fasting for a short period. It is done for a certain number of hours in a day. It will help your body burn fat and calories while eating a small portion of food. There are four different intermittent fasting from which you can choose according to your preferences. All of the four types are mentioned below.
Time-Restricted Eating:
Time-restricted fasting means that you are not supposed to eat anything for a fixed number of hours. It means that you have to do intermittent fasting for a specific time. For example, if you had your dinner at 6 or 7 pm, you cannot eat anything until morning. You are also supposed to eat your breakfast till 10 or 11 am in the morning. So you need to complete about 8-12 hours of fasting. It is an excellent way of reducing your weight by reducing the hours of the day you need to eat.
Alternate Day Fasting
This is another intermittent fasting approach; as the name suggests, this fasting is done on alternative days. It means that one day you are supposed to fast the whole day. But the next day you can eat whatever you want. The day you are fasting, you can have some low-calorie beverages and drinks such as protein drinks, collagen drink, etc.
The Warrior Dieting:
This diet is also considered a type of intermittent fasting. The warrior's dieting is based on the eating habits of the ancient warriors. It means that these people did not eat anything during the day but feasted on the most delicious food at night.
This diet is supposed to make your body slim and smart by stressing it out. The reduced food intake kicks the survival instincts, and the body produces hormones that will start burning the fats as well as the calories in the body.
Eat Stop Eat Fasting:
Another type of intermittent fasting is Eat Stop Eat Fasting. In this type of diet, you choose two or one non-consecutive days in which you need to do fasting for complete 24 hours. For the rest of the days, you can eat whatever you like and enjoy your meals. 
What Do Protein Drinks Include?
There are generally two types of protein drinks and both of those drinks are mentioned below with their uses.
Protein Water:
One way to make up the proteins for intermittent fasting is through protein waters. Protein waters are very high protein but has a low-calorie amount. Most of the protein water contains about 15 to 20 grams of protein. These are perfect for intermittent fasting as they will give you the energy to continue the exercise during the fasting period.
Protein Shakes:
Another type of protein drink is protein shakes. Protein shakes are an excellent source of getting energy before starting intermittent fasting. They will provide you with the extra kick of energy that you need to survive the day when you are fasting. Protein shakes are a great way to lose weight but still gain some muscle mass.
Both of these protein drinks work great as meal replacement shakes during the eating window of intermittent fasting, if you are looking to reduce your overall calorie intake.
Intermittent Fasting & Protein Drinks:
Intermittent fasting is a new concept for doing a diet. Intermittent fasting is done for a set time period, and then you can eat whatever you want. However, there are some questions related to having different drinks during the fasting time. Protein drinks are a source of protein and calories. So having protein drinks during intermittent fasting is not advised because it can break your fast.
Can you drink Protein Drinks while Intermittent Fasting?
You can have a protein drink during intermittent fasting but only during the eating window. As soon as the time for fasting starts, you cannot have any drinks or food (other than water) as it will break your fast.
One of the main reasons protein shakes can break your fast is because they have a number of calories. Therefore, the calories will activate the production of insulin. As soon as the body starts producing insulin, the fat burning of ketosis stops, and you won't get any results you want for your body.
Therefore, it is not advised to take any protein shakes during intermittent fasting time. But you can have some of the shakes during the eating period so that you have the energy to continue the fast. 
Do Protein Drinks Interrupt Your Intermittent Fasting?
Yes! As mentioned above, protein drinks can adversely affect intermittent fasting, and you won't see good results. The protein shakes and drinks can break the cycle of fat burning, hence canceling the whole purpose of intermittent fasting.
Protein Drinks While Eating Window:
During intermittent fasting, there is an eating window. It means the time when you are allowed to eat and fill your appetite. At this time, you can also have protein drinks. These drinks will give you enough energy to continue your day and even start fasting.
But as soon as you start fasting, you aren't supposed to drink or eat anything, including protein drinks.
Significance of Protein for Weight Loss:
Removing the carbs and fats from your diet and replacing them with proteins is a one way to lose weight. Protein will fill your stomach faster and in a smaller portion. Other than that, it also has fewer calories than any other type of nutrient. Protein also reduces the production of the hunger hormone.
When you eat something, you also need to digest it properly. So the fats and carbs are the ones that are digested very quickly. It means that you will feel hungry very fast. But the proteins digest at a lower rate, and you feel fuller for a more extended period. Furthermore, when the body stores the fats, it becomes impossible to burn them and use them for energy. At the same time, the body degrades the protein when it needs energy. Protein shakes for weight loss are also an amazing option for you during the intermittent fasting, as long as you consumer them during your 'eating' window.
Balancing Protein Intake While Intermittent Fasting
It would be best to balance the protein intake during intermittent fasting. Whenever you are doing intermittent fasting, ensure that you have enough protein that will help you in the eight hours of the fasting window. Use different types of protein-rich food such as eggs, cheese, milk, and meat to ensure you get a mixture of different amino acids. Divide them according to your meals, and make sure you get enough protein based on your sex and body weight.   Read our handy guide to taking protein supplements here.
This will help you start energetic, and you won't even gain excess weight by eating a more significant portion of the protein.
Final Takeaway:
Intermittent fasting is one of the perfect ways to start dieting. This is one of the easiest ways of dieting as it means you can still eat the foods you enjoy, so you won't feel pressured and yet start losing weight. But it is essential that you eat proper food and have energy before starting fasting. Hence, protein is one of the best ways to feel full and energetic. You can drink different protein drinks and shakes during the eating window of the fasting and have a lot of energy throughout the fasting. All of these will give you enough power to start intermittent fasting and lose weight to get the body shape you desire.
Still looking for a protein supplement and a hydrating protein drink to fit into your intermittent fasting routine?  Vieve is a hydrolysed collagen protein drink, with 20g protein and zero sugar or dairy.  Head over to our shop to check out our selection of protein waters here.  Find out more about Vieve here.
Also have you tried our new  collagen powder?  Simply add a tablespoon to get an instant 13g protein boost!  Mix it into your favourite food and drinks without impacting the taste, while getting a pure hydrolysed collagen peptide boost.  With zero fat, sugar or dairy its easiest way to get your protein boost without impacting your macros.  Plus it comes in 100% recyclable packaging and is 100% sourced from EU, grass-fed, pasture-raised cattle.
Vieve Protein Water is available in the UK from Amazon, Ocado or via our website.