What Are The Benefits Of Collagen Drinks?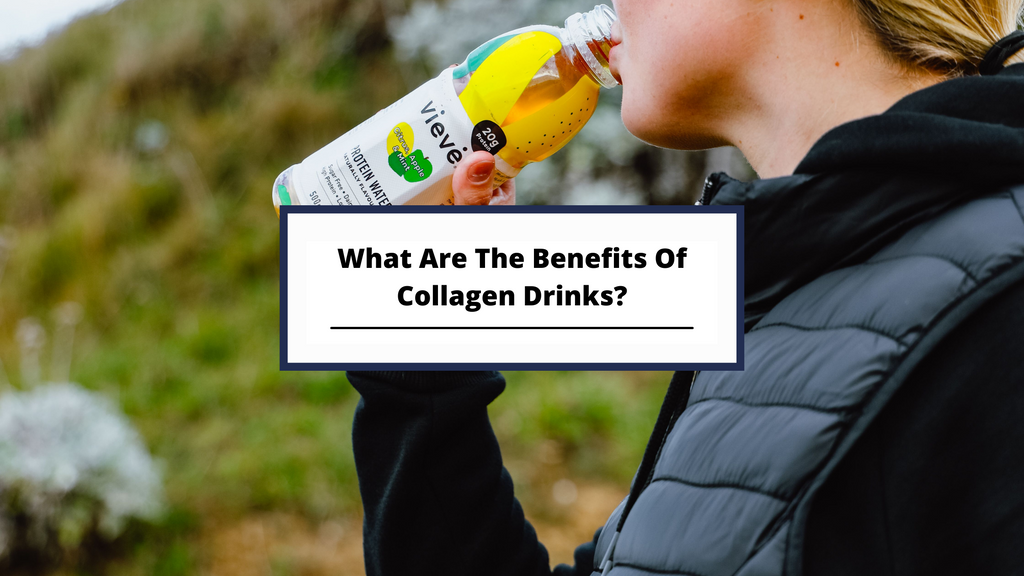 Collagen is the most abundant protein in our body and is required for sustaining good health of some of our body parts like our hair, skin, nails, bones and muscles.  
Supplementing you collagen levels can be tricky however – there are many forms on the market including pills, powders and drinks.   Which format is best for you depends on how you prefer to take your supplements and your lifestlye.  Do you prefer convivence over cost for example?
However, many people are still unclear about how the benefits of collagen drinks. In the following article we try to break down these benefits, and how you can easily increase your collagen levels.
What Is Collagen?
Collagen is one of the most widely present proteins in our bodies. The sole responsibility of collagen is to maintain key bodily functions, which include providing structural support to our connective tissue, muscle, and skin. It is also present in our bones and tendons to give us structural support.
Collagen is also regarded as the protein that gives our skin its elasticity property. It also plays a vital part in maintaining good joint and bone health. Human bodies have the ability to create collagen naturally. However, as the body ages, the rate of collagen production slows down.
Because of the slowed rate, the skin starts to lose some of the elastic ability that helps it to maintain shape. Due to this, wrinkles appear, and our skin loses its overall freshness and youthful glow.
Collagen comprises 80 percent of our skin and is the most abundant protein in the body. It works together with another protein called elastin that helps in keeping our skin more elastic. As discussed earlier, we lose collagen as our bodies age because the body is not able to replace it. 
After we turn 20, we lose one percent of collagen each year. The collagen loss process is accelerated up by excessive and harmful exposure to the sun, cigarette smoke, and pollution. 
What Are Collagen Supplements?
Many people consume collagen supplements to increase the amount of collagen to their diet. Most collagen supplements undergo the process of hydrolyzation. 
This means that the supplement manufacturer breaks down the collagen into peptides while taking the supplement. Once it is in the peptide form, it is easier for our body to absorb this and use it for collagen production. 
Collagen supplements are available in a wide variety. They come in the form of drinks, tablets, capsules, and powders. You can also search for many options online as well.
Collagen consumed in the form of tablets and capsules is an idea that has been in the market for years. However, using collagen powders to make a drink is relatively new. 
You can add collagen powder to your smoothie or shake and enjoy the nutrient-loaded drink as a morning treat or a post-workout meal. It is an easy way to consume collagen without any harmful effects. 
However, a much more convenient way is to just grab a collagen based protein drink! It's an easy on the go option for those who have a tough schedule and want to add the goodness of collagen to their daily diet. They also tend to be low in sugar and calories, making them an ideal addition to your diet.
Besides having collagen in drinks, you can also opt for collagen creams and masks. These supplements work best for people that are looking to yield dermatological effects of collagen. There are many dermatological benefits of using collagen, which we will discuss in one of the sections ahead. 
Many collagen creams are known to boost the production of collagen and to maintain growth. However, experts believe that it is very hard to make collagen production boost in this way because the collagen is hard to absorb through the skin. 
Collagen is produced in the deeper level of the skin, which is called the dermis. This layer is even lower than the epidermis. Therefore, it is very hard for collagen creams to penetrate all the way through to the dermal layer for boosting adequate collagen production.
Collagen peptides, which are also called hydrolyzed collagen, are a different type of supplement. They are composed of the same amino acids like collagen, but they tend to be absorbed more readily by our bodies. 
They are easy to absorb because they are much shorter chains of amino acids than collagen. Shorter chains are easy for our bloodstream to absorb as they are digested without any issues. 
Benefits Of Collagen
Many studies have been carried out to study the effect of consuming collagen supplements. It is considered to be a protein that helps to ensure that various processes of our body continue smoothly. Some of the processes and benefits have been listed below.  
Skin
We all know that collagen makes up about 80 percent of the dry weight of our skin. That is a lot considering the fact that we lose one percent of it every year. The loss makes our skin more susceptible to damage that leads to the loss of glow and supple look. 
A study was conducted in 2015 to evaluate whether or not supplementation could increase the collagen density of skin tissue within a lab setting. The results yielded from the study suggested that supplements helped to improve both skin hydration and give a better dermal collagen network that would slow down the skin aging process.
Several studies have evaluated how skin elasticity starts to decrease after we turn 20. In a 2014 study, the sample size consisted of women aged 35 to 55 years who consumed a specific collagen supplement or a placebo for eight weeks. 
At the end of eight weeks, those who took the collagen pill ended up with improved skin elasticity as compared to those who used the placebo.
Read our blog for how to restore collagen in your face.
Bone Health
The effect of collagen on bone health is a rather controversial topic. You will find many studies that confirm a potent effect of this protein supplement to aid in healthy bone growth. 
A study in the 2018 study showed that consuming collagen peptide improved bone mineral density in many postmenopausal women. In addition to that, collagen supplementation was linked with a favorable increase in bone markers.
As women age, their bones become more porous which causes them to lose density. A drop in bone density makes your bones more susceptible to injury. However, with the addition of collagen supplements to your diet, you may notice a remarkable progress in your bone health. 
Joint Pain
Collagen helps to boost the production of cartilage, which is a rubbery material that coats and protects our bones. Cartilage is necessary for our bodies so that our joints can move smoothly. 
As we age, the production of collagen and cartilage declines steeply. There are some studies that show how collagen supplements may decrease joint pain and other concerning symptoms of osteoarthritis.
In 2019, researchers showed that there are some studies looking into the effects of collagen supplements on osteoarthritis symptoms. However, the effect of such collagen supplements on joint pain is minimal. 
They are better at maintaining healthier cartilage health before your body develops a chronic condition. This means that once you cross 30, you should consume a collagen supplement that can aid in avoiding the development of any joint pain conditions. 
Boosting Muscle Mass
Almost 1–10% of muscle tissue is made out of collagen. This structural protein is vital to keep your muscles strong and to ensure maximum functioning. Studies have shown that collagen supplements aid in boosting muscle mass, especially in people with sarcopenia. Sarcopenia refers to the rapid loss of muscle mass that occurs with increasing age.
Researchers also evaluated that consuming collagen may boost the synthesis of muscle proteins like creatine, as well as stimulate a much more extensive muscle growth following exercise. 
Promotes Heart Health
Having a healthy heart helps in maintain various functions of the body. Therefore, researchers found that consuming collagen can help in decreasing the intensity of heart-related conditions.
Collagen gives support to your arteries that are the blood vessels responsible for carrying blood from your heart to every vital organ. Without enough collagen being made in your bodies, your arteries become stiff and fragile. 
This may contribute as a risk factor towards the development of atherosclerosis, which is a chronic disease resulting from the narrowing of the arteries. Atherosclerosis can lead to a heart attack or stroke, which are life-threatening conditions.
Users who consume collagen supplements regularly often notice a marked effect in the stiffness of their arteries. This is seen by the fact that these users have a healthier blood pressure range, along with a lower chance of developing other diseases. 
Additionally, collagen supplements increase the levels of HDL, which is the "good" cholesterol by an average of 6%. Having a high proportion of HDL in your blood is important for lowering the risk of developing atherosclerosis.
Promotes Gut Health and Aiding Digestion
Collagen isn't just great for hair, skin and nails it can also really benefit your digestion.    Collagen helps build and maintain the connective tissues throughout your intestinal tract.    
Collagen is beneficial to gut health because it large amounts of particular amino acids which have been shown to be beneficial.  These include the amino acids glycine, glutamine and proline which can be beneficial to the intestinal tract as well as the stomach.   Collagen is a hydrophilic molecule, which means it attaches itself to water and other acidic molecules as it moves through the digestive tract.  This assists with the breakdown of other proteins and carbodhydrates in the intestines.   Collagen has also been shown to help with Irratible Bowel Syndrome and a condition knows as 'leaky gut'.
What Is Collagen Good For?
Collagen supplements have been showing to have many positive benefits with minimal side effects.  As stated above these include the following:
Improves skin health 
Relives join pain
Reduces bone loss
Improves muscle mass as a quality source of protein
May promote heart health
Improves hair and nails health
These are just some of the benefits that collagen drinks can offer.    There have been very minimal studies showing any negative side effects to collagen, although some studies have shown digestive side effects such as heartburn and feeling of fullness. 
Overall, these supplements appear to be safe for everyday consumption.
Collagen Before And After
Collagen works differently depending on the dosage taken and the part of the body that is responding.  Below is a quick guide to improvements seen for different parts of the body:
For better skin, collagen produces esults in approximately 12 weeks which is common in most instances. For example, one study revealed that the consumers experienced improved skin elasticity, hydration, and robustness by using collagen supplements.  Another research showed that the consumers experienced evener skin texture. The key is to continue to take collagen supplements until you see an improvement.  
For The Joints And Tendons
For joints and tendons, the period can be a little more subjective, ranging from 12 weeks to six months. Some researchers argue that they found out results in the 12-week time frame with a positive impact on joint pain. While others give the results that their studies proved that taking collagen supplements helps them providesupport in 13 weeks. However, more studies need to be made to thoroughly understand what our joints and tendons take in the supplements.  
The natural time for new bone to be formed in our body is already a somewhat lengthy process. It should not be a disappointment that the supplement also takes longer to work on the bones. Consequently, most researchers follow the participating over a year to see the difference in their bone density from using collagen supplements. For example, one particular study showed that postmenopausal women had greater bone density at 12 months after consuming collagen peptides daily for a year. 
There are not enough studies to approximate the time needed for the supplements to show their results, and it needs more time to be figured out. On the other hand or nails, the studies suggest that at 24 weeks, they showed improved strength and reduced brittleness.
The important thing is to see result you need to continue to take the supplement daily, for the minimum required time stated above.   Results take time and sadly do not appear overnight!
Do Collagen Drinks Work?
Supplementing your collagen intake with collagen drinks can be an easy solution if you do not like using powders or tablets.  Many of these products tend to be low or sugar free and low in calories, so they can fit in easily into any diet without increasing or affecting your daily macro intake.
The key to ensure that collagen drinks work involves a combination of the following:
Supplementing consistently daily
Giving yourself enough time for the supplements to work – on average based on studies mentioned above this can take anywhere from 3-6 months
Evaluating results over the long term
Overall, collagen supplements have helped many people to improve health conditions and obtain their desired results but individual results may vary.
Best Collagen Powder
If you prefer to use a powder to increase your collagen levels instead of a liquid, it is important to find one that you can easily incorporate into your diet.   The ideal collagen powder should mix easily into everyday food and drinks making it easy to integrate into your everyday foods such as coffees, soup, or even meals such as a spaghetting Bolognese or curry.   Try to avoid collagen powders that have any additives or added sugars, and look for a 100% hydrolzed collagen powders which is the most bioavailable form of collagen.
Vieve Protein Powder is a source of 100% hydrolyzed collagen protein with zero sugars, fats dairy or any additives.  The product is sourced from EU pasture raised, grass fed cattle and mixes easily into everyday food & drink without any impact on taste.  Each serving contains 13,000mg of collagen peptides, making it an ideal daily supplement for those looking for an easy collagen boosytwithout the added sugars, fats or dairy.
Supplement Drinks
Vieve is the world's first high-protein drink and protein water to use collagen as its primary protein source, offering a true non-dairy alternative to whey and milk based drinks.   Each bottle contains 20,000mg of hydrolysed collagen.  
Our collagen powder mixes easily into everyday food & drink with just a tablespoon to give you an instant collagen-based protein boost.
Head over to our shop to check out our selection of protein drinks and protein waters.  Find out more about Vieve here.  Vieve Protein Water is available in the UK from Amazon, Ocado or direct from us!