How Vieve Protein Water is Helping Me Get My Energy Back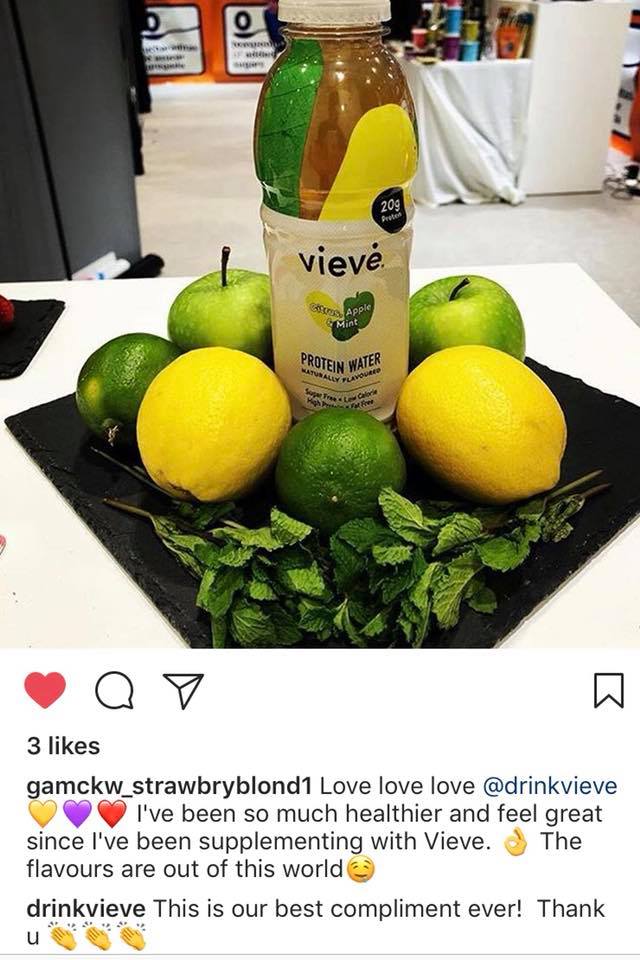 The word Vieve comes from the urban dictionary and means 'full of Life'.  At Vieve we believe in empowering others to be their best by staying strong and hydrated - able to face any challenge head on. Our philosophy is simple: Grab Life.  So for 2018 we will be featuring real stories from people about how Vieve is helping them make a positive impact in their lives and enabling them to truly #GrabLife.    
Our second post comes from Greta who suffers from Fibromyalgia and Osteoarthritis and has used Vieve to help get her energy back and make healthier choices.  We're proud to be supporting Greta and many others to truly #GrabLife!
From Greta:
Hi there! My name is Greta and I love Vieve!
I'll tell you why...... I have Fibromyalgia (plus overlapping conditions) and Osteoarthritis (mostly in my knees)
I was born with these conditions.
Having Fibro means I have chronic pain and fatigue. As most Fibro sufferers I'm always looking for something. Something to make me FEEL better.
I've tried a lot of supplements. I stopped eating meat and fish (I'm not a vegetarian) I started an Ayurvedic diet.
Then....I saw an advert for Vieve (@drinkvieve) First thing that caught my eye was it's NOT milk/whey protein. Exciting! My body doesn't like milk products.
I wasn't keeping up with my protein supplements because most of them are yucky. Could it be that I finally found something that wasn't "yucky". So I ordered some.
It arrived. Well packaged may I add. I was reading the ingredients and I was a bit leery as it has sugar substitute in it and I don't like it. To be honest I didn't want to try it just to be disappointed. Finally, I opened a bottle and tried it. Wow!!! The taste was unbelievable! The flavour was so good that I didn't notice the sugar substitute.
So everyday I drank a Vieve. As time passed I started feeling more energetic. I actually lost some weight (I'm told that's not unusual when you start protein supps.) I felt better.
I was so happy about Vieve I started reposting on Instagram and telling people my story of how Vieve makes me feel healthier.
So simple. So easy. Pull the bottle out of the refrigerator, open it and drink. No powders! No chalky, milky drink! No blender!
I can't praise Vieve enough. I still drink a bottle everyday (my favourite is Strawberry Rhubarb) and I still feel energised and alive. It really helps me make it through the day.
Thank you Vieve
About Greta:  
Greta is an avid instagrammer and you can folllow her adventures on @gamckie_photos.  She suffers from Fibromyalgia and Osteoarthritis but that doesn't stop her from enjoying life :-)
 If you have an inspiring story about how Vieve is helping you in your weight-loss, fitness or muscle routines feel free to send us an email: hello@dink-vieve.com 
Your can head over to our shop to check out our selection of collagen based protein waters here.    Or check our our new easy-to-dissolve collagen protein powder.
You can our range of protein water drinks in the UK at Amazon, Ocado, Holland & Barret as well as on our website.  Find out more about Vieve here.