How Vieve is Helping Me Recover Post Op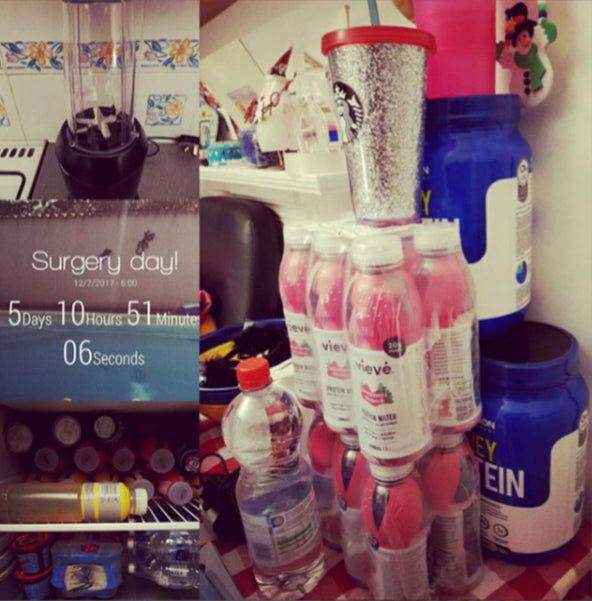 The word Vieve comes from the urban dictionary and means 'full of Life'.  At Vieve we believe in empowering others to be their best by staying strong and hydrated - able to face any challenge head on. Our philosophy is simple: Grab Life.  So for 2018 we will be featuring real stories from people about how Vieve is helping them make a positive impact in their lives and enabling them to truly #GrabLife.    
Our first post comes from Charlotte who has used Vieve to help her recover post op when she was struggling to get her protein intake and wanted an alternative from milky drinks or powders.  Since Charlotte started posting on her instagram about Vieve we have received many encouraging stories about other people using Vieve as a recovery aid after surgery.   We're proud to be supporting so many people in their recovery!
From Charlotte:
The two key messages after weight loss surgery are to make sure you drink plenty of fluid and get plenty of protein in to your diet. I had gastric bypass surgery five weeks ago and I have now seen how difficult it would be to get adequate protein intake without supplements.
The dieticians at the hospital gave me details of various protein powders I could use but they all make milky drinks and I was keen to find a more refreshing alternative. When I was searching for protein waters I found Vieve and placed an order as they already had great reviews.
I was delighted to find that all of the flavours taste great, although my favourite is the strawberry and rhubarb, and are the perfect refreshing alternative to the shakes. Vieve has helped me achieve the protein and fluid targets set for me by the dieticians and this helping to support my weight loss too.
Thanks Vieve!
Charlotte H.
About Charlotte:  
I am nurse living in London, 38 years old and determined to be as fit as possible before I turn 40. My goal is to get a place in the 2019 London Marathon, hopefully for a pulmonary fibrosis charity.  
You can follow Charlotte's recovery on her instagram: @weightlosslottie
Vieve is the world's first high-protein drink and protein water to use collagen as its primary protein source, offering a true non-dairy alternative to whey and milk based drinks.   Each bottle contains 20,000mg of hydrolysed collagen.  
Our collagen powder mixes easily into everyday food & drink with just a tablespoon to give you an instant 10g collagen-based protein boost.
Head over to our shop to check out our selection of protein drinks and protein waters. Find out more about Vieve here. Vieve Protein Water is also available to buy from Amazon or Ocado.
*Based on past two years Amazon ranking.  Vieve is 'Amazon's Choice' for Protein Waters