What You Need to Know About Clear Protein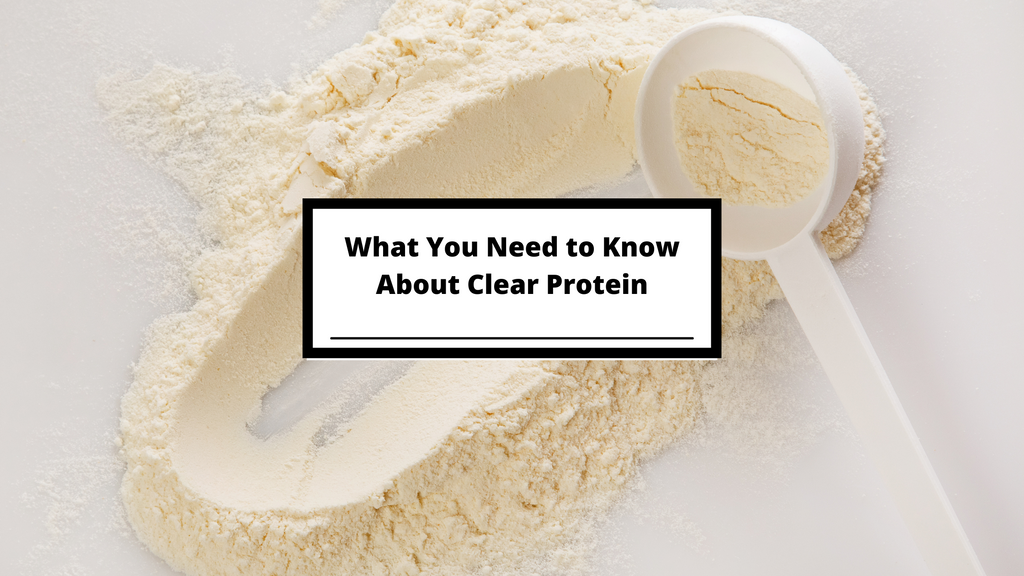 Introduction
Clear Protein is a product that's all the rage right now. It's a powder or protein drink that contains water-soluble proteins and natural flavourings. It's easy to mix with just about anything you want, including smoothies and water. Because it usually doesn't contain any carbs, fat or sugar, you don't have to worry about calories or gaining weight when using Clear Protein so it could be a perfect solution for managing your macros. 
What is clear protein?
Clear proteins are water-soluble proteins that dissolve almost clear when mixed with water. The are usually made from whey, collagen or vegan proteins --and includes natural flavourings for taste. Clear Protein can be mixed with water or added to smoothies for an easy way to boost your daily protein intake.
How does it work?
You may be wondering how Clear Protein works. Here's the lowdown:
The process begins with raw, grass-fed whey protein isolate or collagen proteins. This is an isolated form of protein that has been filtered out from its other components, including lactose and fat, leaving behind only pure whey protein molecules. It's then spray dried into a fine powder--this preserves all the nutritional value while making it easier to use in cooking or baking recipes.
When you add water or another liquid base (like almond milk) to your recipe, these small particles dissolve clear making it into an easy to absorb protein drink
What does it taste like?
Clear Protein is usually taste-less but usually does have a slight aftertaste. It's usually mixed with natural flavors, which means you can enjoy it in water or smoothies without having to worry about an unpleasant aftertaste.
Clear Protein is also easy to mix with water or juice, so you don't have to spend time shaking up your protein shake every morning before heading out the door--just add some Clear Protein powder into a glass of liquid and drink up!
Does it have any side effects?
While protein powder is generally safe to consume, it's important to keep in mind that some people may experience side effects from consuming too much of it. For example, if you have a pre-existing medical condition or are on medication and use clear protein as a dietary supplement without consulting with your doctor first, there is always the possibility that your body could react negatively to the ingredients in this product.
Clear Protein has no carbohydrates, fat and sugar which makes it an excellent choice for anyone trying to lose weight or maintain their current weight level. It also contains over 20g of protein per serving which makes this product very low in calories (only 120 calories per serving).
Who should consume clear protein?
If you're looking for a convenient way to get more protein in your diet, then clear protein may be right for you. It's also a great option if you want to build muscle and repair tissue. If that sounds like something your body could use, then go ahead and give it a try!
Clear protein can be used as part of any weight-loss regimen because it helps curb hunger pangs while providing essential nutrients that are usually missing from diets without enough protein.
Clear proteins should be consumed by anyone looking to increase their protein intake as part of their fitness regime, or for medical related reasons like surgery post-op.  It can be useful for those looking to watch their calories as part of a weight-loss program.  The ease of use and taste of clear protein makes it ideal as an easy protein top-ups.
Clear protein provides many benefits while tasting great.
Clear protein provides many benefits while tasting great.
It's convenient. You don't have to prepare it or mix it with anything else before you drink it, so you can take it on the go and still get your daily dose of protein without having to spend extra time in the kitchen or at home making a shake or smoothie every day.

 

Products like protein water offer an easy convenient way to consumer protein on the go without any mixing or mess.
It tastes good! Clear Protein comes in various flavours – Vieve Protein Water comes in almost 7 different unique fruit flavour combinations so you can find the one that is perfect for you
Collagen drinks are often considered a form of clear liquid protein.   You can read about the benefits of these drinks here
You can mix Clear Protein with water or add it to your favorite smoothie.
You can mix Clear Protein with water or add it to your favorite smoothie.
There are many ways to use this product, so let's talk about some of the best options:
Add a scoop of Clear Protein powder to a protein shake. This is the most common way people use it and is a great way to get some extra protein in your diet when you need an afternoon pick-me-up or pre-workout boost!
Mix one scoop with 8 ounces (about 240 ml) of cold water and drink before working out for best results.* You can also stir in fruit like bananas or berries if you want something more flavorful than plain water.* If you're looking for something even thicker than straight up liquidy goodness, try adding ice cubes too!
Grab a bottle of protein water and drink it on the go!

 

No mixing no mess
Clear Protein has no carbs, no fat and no sugar.
No carbs.
No fat.
No sugar.
Clear Protein is also gluten-free, dairy-free and soy-free; it usually contains no artificial flavors; and it's made with whey protein isolate (WPI), which is one of the highest quality proteins you can get in a powder supplement because it's processed at low temperatures to preserve its integrity--this makes it easier for your body to digest than other types of protein powders that use heat during processing like egg whites or casein.   Other clear proteins include collagen or vegan proteins.
People who use Clear Protein are looking for a healthy way to get more protein into their diets.
People who use Clear Protein are looking for a healthy way to get more protein into their diets. They may be trying to build muscle, lose weight or stay healthy.
Whatever your goal is, Clear Protein can help you achieve it.
Clear Protein is a convenient way to get the kind of protein that helps build muscle and repair tissue without added sugar or calories.
Protein is an essential part of your diet. It helps build and repair muscles, keeps you feeling full, and can help you lose weight by increasing satiety (the feeling of being full).
Protein also provides energy--in fact, the USDA recommends that adults consume between 14-19% of their calories from protein. This means that if an average woman eats 2200 calories per day, she needs at least 56 grams of protein each day. That's a lot!
Having too little protein can make it hard to maintain a healthy weight or build lean muscle mass as we age--but having too much isn't ideal either: high intakes have been linked with increased risk for cardiovascular disease in some studies.
Conclusion
In conclusion, Clear Protein is a great way to get more protein into your diet. It tastes good and has no added sugar or calories. The best part is that it mixes easily in water or smoothies so you can drink it anywhere!
Still looking for a clear protein supplement and a hydrating protein drink to fit into your routine?  Vieve is a hydrolysed collagen protein drink, with 20g protein and zero sugar or dairy.  Head over to our shop to check out our selection of protein waters here.  Find out more about Vieve here.
Also have you tried our new  collagen powder?  Simply add a tablespoon to get an instant 10g protein boost!  Mix it into your favourite food and drinks without impacting the taste, while getting a pure hydrolysed collagen peptide boost.  With zero fat, sugar or dairy its easiest way to get your protein boost without impacting your macros.  Plus it comes in 100% recyclable packaging and is 100% sourced from EU, grass-fed, pasture-raised cattle.
Vieve Protein Water is available in the UK from Amazon, Ocado direct via our website.