How Vieve Is Trying To Make A Sustainable Impact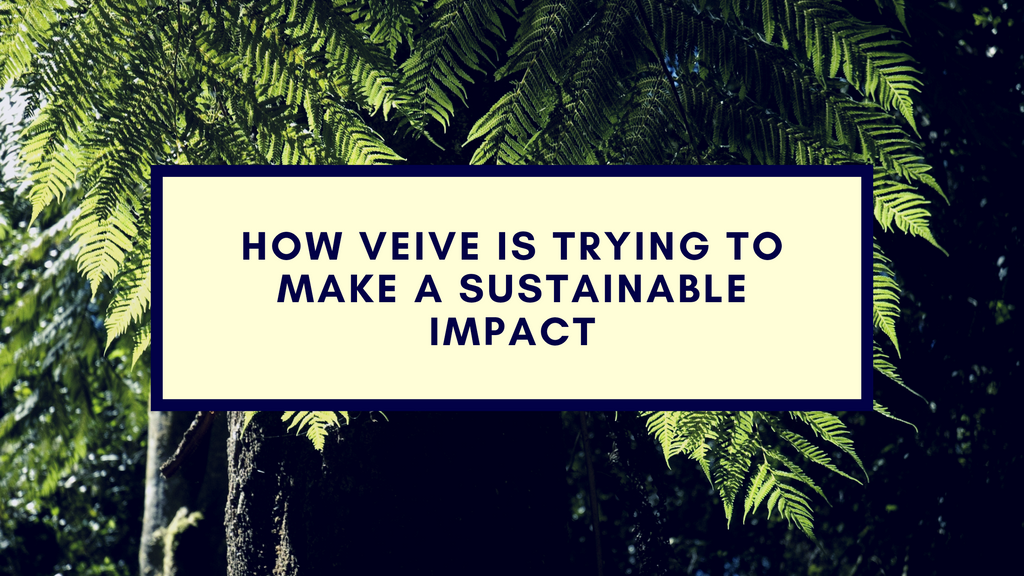 Air and water pollution[1], global warming, deforestation[2] and wildfires are some of the environmental problems we are being faced with. They are likely to become even worse unless we begin to all take responsibility and build small actions in our daily routines to make a big difference. Vieve is trying to be a part of this environmental movement, and with your help our products can make a postivie sustainable impact on the environment. 
Collagen powder:
Starting with the environmental benefits of our collagen powder, it's clear that we are facing a serious issue right now over plastic pollution. In today's world, single use plastic is accounting for fifty per cent of the plastic we are producing every year[3]. These plastics are taking over bags, packaging and more, only to be used by consumers for a very short space of time. Yet, once disposed of they remain in landfills for hundreds of years to either decompose or create micro plastics – leading to more disastrous effects[4].
To help reduce the amount of plastic placed into landfills our collagen packaging is made out of a low density polyethylene (LDPE) this makes it 100% recyclable with many recycled LDPE's becoming garbage cans, floorings and bubble wrap![5] In an effort to curb single use plastics we have also not included a plastic scoop in our bags to encourage our customers to use their own.
However, we are aware of the environmental cost of using cattle for our product since methane is released into the atmosphere. Despite this, collagen is still a sustainable source of protein because of how we utilise the cattle. Collagen protein is created from parts of the animal that aren't useful for the food and beauty industry. This maximizes the amount of protein that we get from each animal, which is essential as our global population increases and so does our protein requirements.  By utilising these by-products of our cattle we are maximising the amount of use we get from livestock which otherwise would have been wasted.[6]
To find out more about the benefits of our collagen powder check out our blog here - https://drink-vieve.co.uk/blogs/news/move-over-whey-protein-here-comes-collagen
Our Protein Water
Now let's move onto the environmental impacts of our protein water. Plastic bottles are everywhere – in our oceans, streets and landfills. In order to stop this all Vieve protein waters are made from polyethylene terephthalate which is 100% recyclable! It is in fact the most widely recycled plastic and is often reused to become polyester fabric and filling for fleeces, carpets and cushion fillings.[7]
Learn more about why we love our protein waters here: https://drink-vieve.co.uk/blogs/news/why-vieve-protein-water-is-the-easiest-20g-protein-ever
However, if you are looking to ditch the plastic bottles altogether in replacement for reusable ones, remember our Vieve collagen powder can be mixed into any hot or cold liquid offering a great replacement!
Rainforest & Tree Planting Initiative:
At Vieve we also recognise the environmental impact that we have on smaller communities that have been affected through environmental degradation. To help come to a solution we have partnered up with the mango tree trust to plant a new tree for every five packs of our water sold through our website. These trees are to be planted in Kenya to help improve economic conditions for farmers and families. Our goal is to plant 10,000 trees we are at 7000 so far!
Through our tree planting initiative we are also off-setting our carbon footprint - we estimate by planting 7000 trees we have managed to off-set the same amount of carbon as removing 400 long-haul flights from New York to London!
Read more about the our mission here and work with B1G1 and The Mango Orphan Tree Trust here:
https://drink-vieve.co.uk/pages/5-packs-1-tree
But We Need Your Help!
Vieve is always striving to create a sustainable impact as we are aware of all the change that is needed to protect our earth for years to come. However, our efforts cannot be fulfilled without you! So make sure the next time you're using one our products to correctly recycle them.
 If you would like to help us reach our goal of 10,000 trees check out our shop at – https://drink-vieve.co.uk/ and buy a pack today!
[1] "Pollution: Causes and Effects - Conserve Energy Future." Conserve Energy Future, 25 Dec. 2016, www.conserve-energy-future.com/pollutiontypes.php.
[2] "51 Breathtaking Facts about Deforestation - Conserve Energy Future." Conserve Energy Future, 27 Dec. 2017, www.conserve-energy-future.com/various-deforestation-facts.php.
[3] "Our Planet Is Drowning in Plastic Pollution. This World Environment Day, It's Time for a Change." Www.unep.org, 2018, www.unep.org/interactive/beat-plastic-pollution/.
[4] Royte, Elizabeth. "We Know Plastic Is Harming Marine Life. What about Us?" Magazine, 16 May 2018, www.nationalgeographic.com/magazine/article/plastic-planet-health-pollution-waste-microplastics#:~:text=Experiments%20show%20that%20microplastics%20damage.
[5] "What Plastic Can You Recycle & Resin Codes Explained." Maxpack, 13 Dec. 2019, https://www.maxpack.co.uk/what-plastic-can-you-recycle-resin-codes-explained/.
[6] Fu, Yu et al. "Exploration of collagen recovered from animal by-products as a precursor of bioactive peptides: Successes and challenges." Critical reviews in food science and nutrition vol. 59,13 (2019), https://pubmed.ncbi.nlm.nih.gov/29394086/
[7] "What Plastic Can You Recycle & Resin Codes Explained." Maxpack, 13 Dec. 2019, www.maxpack.co.uk/what-plastic-can-you-recycle-resin-codes-explained/.