Protein on Brain Health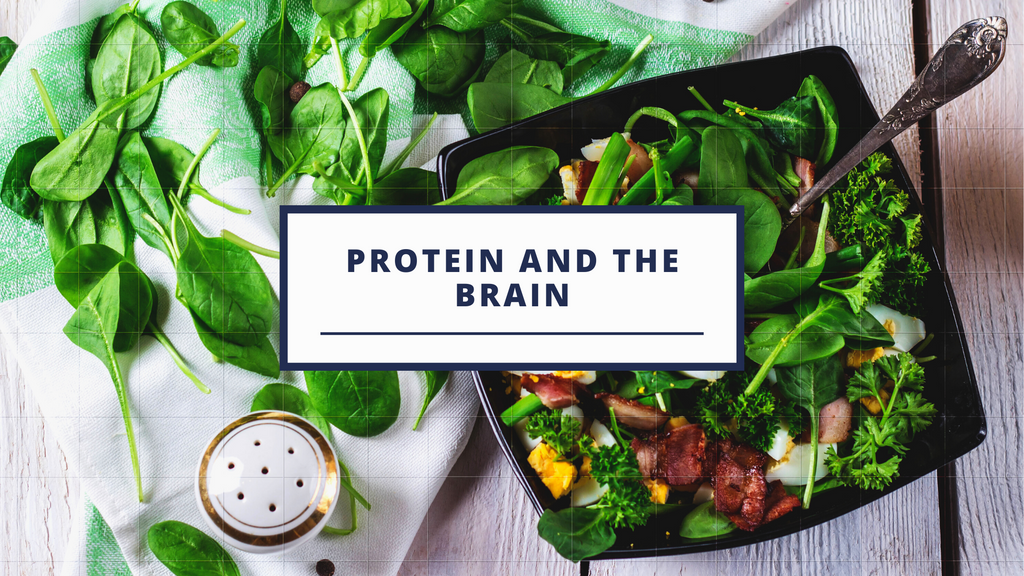 Protein can be considered the foundation of muscles, it allows the body to maintain and repair tissues while also increasing strength. Although our brain is one of our most vital organs, its ability to strengthen itself has many scientists suggesting we should treat it as a muscle. Yet after 30, studies[1] have suggested the brain begins to decline; we begin to find focusing, multitasking and memory more difficult. All is not lost however, exercising our brains allow the organ to maintain its strength and health; this is where protein steps in.
Effects of low protein on the brain[2]:
Effect on mood and appetite:

Lack of protein means chemicals in the brain may become depleted, these chemicals typically control our mood and appetite

Tiredness

Protein allows for an amino acid called Tyrosine to rise, Tyrosine is vital in creating neurotransmitters that strengthen our energy levels and our alertness

Brain fog

Brain fog is a term to describe the times where we feel mentally slow and spaced out with a lack of clarity. When protein level fluctuates it leaves us with only short burst of energy that leaves us with brain fog thereafter.
How much protein does your brain need?
The amount of protein our brain needs can be harnessed in the regular amount our body needs, this is usually 0.75g for every kilo of body weight you have, each day. On average, it is thought women need 45g while men need 55g. It should also be noted that people who are active require more protein to support their glycogen storage, reduce their muscle soreness and help repair muscles[3]. However, what is interesting is the best type of protein for our brains, in order to keep sharp and focused; this essential protein is known as an amino acid.
Read more about how to use protein here - https://drink-vieve.co.uk/blogs/news/a-guide-to-taking-protein-supplements-the-dos-and-donts
What is an amino acid?[4]
For our brains to function well the central nervous system uses a number of amino acids, which we gain from protein. These amino acids are used by the brain to synthesis a number of neurotransmitters. In simple terms, they alter brain functions to make us more alert and focused at times and make us feel sleepy during others! A combination of the right amino acids can allow us to function as best as possible when needed.
Quick shout out to Collagen
Collagen protein powders are a great source of amino acid in fact, one third of collagen is made up of glycine – an amino acid central to brain health. While glycine has a remarkable effect on brain function it also helps your brain get the rest it deserves. Glycine is able to calm the brain and lower our core body temperature helping us fall asleep and stay asleep[5]. In turn, the protein also reduces any tiredness during the day and enhances our cognition!
Read more about why we love collagen here: https://drink-vieve.co.uk/blogs/news/move-over-whey-protein-here-comes-collagen
How protein helps with memory
Adding to the benefits of protein, a recent study by Montreal Neurological Institute and Hospital (The Neuro), a teaching and research Institute of McGill University in Canada[6], found protein can positively affect memory. This is because protein strengthens neural connections within our hippocampus; an area of the brain responsible for memory and learning.
How protein can affect our brains attitude towards food:
Dr Heather Leidy's[7] research has given us great insight in how protein can affect reward driven eating. She found that when we eat diets that are rich in protein there is a reduction in the areas of our brain that reward us for eating unhealthy sweet and savoury foods such as pizza or chocolate. In fact when our protein level drops we are more driven to these unhealthy substitutes[8]. From these findings it is clear, to stick to a healthy diet protein can be a great support!
How else can you get protein to the brain?
Lots of food can also get our brains the protein we need to keep us alert, it's a common experience for people to have a meal high in carbohydrates and feel tired and sluggish afterwards. This is because these foods aren't helping the brain create the right signals to keep us energised. So what foods should we be consuming?
Foods high in amino acid:[9]
Eggs

Excellent source of amino acids and one that can be cooked into dishes in a variety of ways!

Beans and Legume

High quality protein and the added benefits of containing a wide variety of amino acids

Mushroom

Mushrooms can contain up to 17 different amino acids! Added to that they are easy to use in sprucing up plant based meals

Fish

While fish contain amino acids they also contain lots of Omega 3, perfect aid for health!
From this list it's clear that optimising foods high in protein is not as difficult or complicated as we might think. A lot of the foods above can be incorporated into a wide range of diets. In fact, Vieve has made it easier than ever as a scoop of our collagen powder can be added into cold or hot meals making that extra 13g a spoon away.
Vieve's pledge with Mind
Although much of this blog has been dedicated to the physical benefits and processes of how protein can help brain health it is important not to forget the mental factor in brain strength! Vieve wants all its community to be full of life and so we pledge 1% of profits to Mind, a mental health charity. Through sales we are able to fight for mental health and respect for all those needing some support at grabbing life to the fullest!
Conclusion
Coming to the end it seems phenomenal what a few grams of protein can do for our brain health a day. From keeping us alert and focused to helping us sleep and even helping us make lots more precious memories. Plus, with Vieve protein is so more powerful to the brain as we help support the community around us. After all that information I think it's best to go give that brain a break and grab a high protein snack!
Vieve
Vieve is the world's first high-protein drink and protein water to use collagen as its primary protein source, offering a true non-dairy alternative to whey and milk based drinks.   Each bottle contains 20,000mg of hydrolysed collagen.  
Our collagen powder mixes easily into everyday food & drink with just a tablespoon to give you an instant 10g collagen-based protein boost.
Head over to our shop to check out our selection of protein drinks and protein waters. Find out more about Vieve here. Vieve Protein Water is also available to buy from Amazon or Ocado.
[1] McCallum, K. (2021). Is Your Brain a Muscle? [online] www.houstonmethodist.org. Available at: https://www.houstonmethodist.org/blog/articles/2021/may/is-your-brain-a-muscle/ [Accessed 18 Jul. 2021].
[2] Sunwarrior. (2019). How The Lack of Protein Affects Your Brain and Overall Health. [online] Available at: https://sunwarrior.com/blogs/health-hub/proteins-effect-brain-function-memory-health.
[3] https://www.nutrition.org.uk/healthyliving/an-active-lifestyle/eating-for-sport-and-exercise.html?start=2#:~:text=Protein%20is%20important%20in%20sports,intake%20out%20throughout%20the%20day.
[4] Institute of Medicine (US) Committee on Military Nutrition Research. The Role of Protein and Amino Acids in Sustaining and Enhancing Performance. Washington (DC): National Academies Press (US); 1999. 14, Amino Acid and Protein Requirements: Cognitive Performance, Stress, and Brain Function. Available from: https://www.ncbi.nlm.nih.gov/books/NBK224629/
[5] Bannai M, Kawai N. New therapeutic strategy for amino acid medicine: glycine improves the quality of sleep. J Pharmacol Sci. 2012;118(2):145-8. doi: 10.1254/jphs.11r04fm. Epub 2012 Jan 27. PMID: 22293292. https://pubmed.ncbi.nlm.nih.gov/22293292/
[6] Paddock, C. (2018). How a key protein boosts memory, learning in the adult brain. [online] www.medicalnewstoday.com. Available at: https://www.medicalnewstoday.com/articles/323623#Synaptic-changes-underlie-memory [Accessed 18 Jul. 2021].
[7] Neuro Coffee. (2017). 3 Ways Protein Impacts Our Brain Function. [online] Available at: https://getneurocoffee.com/blogs/brain-dump/3-ways-protein-impacts-our-brains [Accessed 18 Jul. 2021
[8] Neuro Coffee. (2017). 3 Ways Protein Impacts Our Brain Function. [online] Available at: https://getneurocoffee.com/blogs/brain-dump/3-ways-protein-impacts-our-brains [Accessed 18 Jul. 2021 
[9] WebMD. (n.d.). Foods High in Amino Acids. [online] Available at: https://www.webmd.com/diet/foods-high-in-amino-acids#2 [Accessed 18 Jul. 2021].