Whey VS Collagen: Which Protein to Choose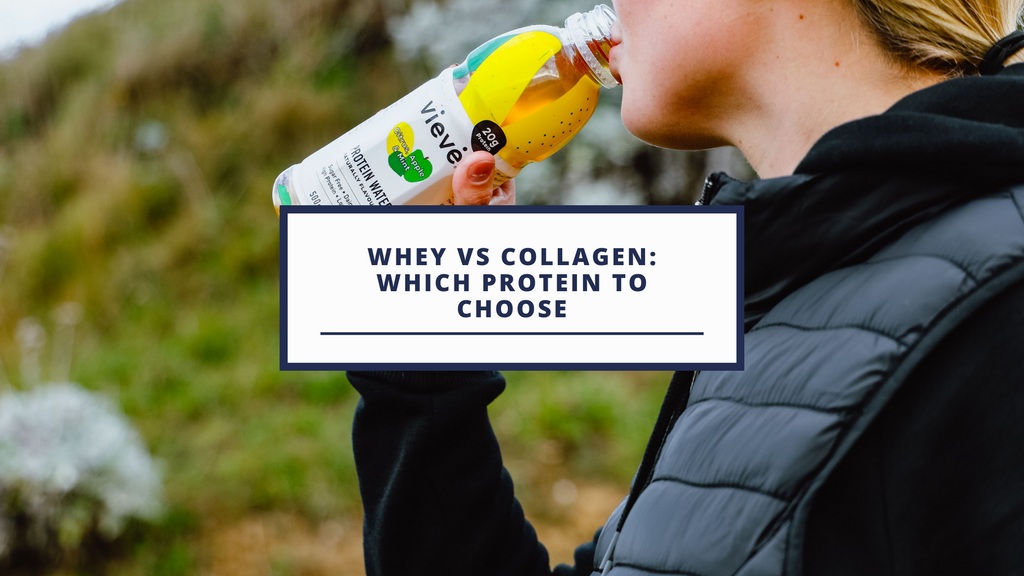 In our latest blog post we discuss the benefits of Collagen over whey. Which should you choose for your protein drink?
Protein supplements have been the go-to macronutrient of gym-goers to help increase their muscle mass and acquire a lean body. This post-exercise mantra of consuming protein helps the micro-tear of muscles gained after work out to help repair, strengthen and thicken the muscle fibres.

Combined with proper exercise and healthy diet, there are a lot of products that promise solutions for having a leaner body and firmer muscles, all promoting the use of protein. Protein water is the new kid on the block but giving better alternatives to your usual protein product.

We all know the taste of protein and combining it with water might raise a few eyebrows. Most whey protein is consumed with milk and dairy to tone down the protein's bitter taste and because of this, it is always combined with sweeteners to mask the flavour. If you want to lose weight, this might not be the way to go since milk contains carbohydrates and the added sugars might not help with attaining that goal too.

Luckily, we have produced a great product that can be your perfect partner to get your desired body. Vieve Protein Water is a lactose-free hydrating protein drink that skips on the whey protein. This makes protein water not only low in calories but also sugar-free and carb-free. Vieve contains a unique hydrolysed collagen peptide formula which allows the protein to be rapidly digested by the body, thus providing a faster result and better stimulates muscle development and growth.

Collagen also tastes neutral so it can be combined with different nonsugar tastes, thus allowing you to enjoy your daily dose of protein while tasting different flavours, like citrus, strawberry and coconut honey.    Collagen is also great for baking and general cooking - the taste is flavourless and tends to dissolve well in liquids. 

If you're opting for a faster uptake of protein for muscle development and growth, try our Vieve Protein Water, a protein drink to help you to see your desired results. Vieve is the UK's first collagen based high protein drink - with a whopping 20,000mg of collagen per bottle!
Vieve Collagen Protein Water is available to buy from the protein drinks sections at Amazon, Ocado or Holland & Barrett. Currently not available from Tesco, Sainsbury's or ASDA but we are working on it!
Check out our shop to choose from a variety of products that we offer or browse our website for more details about protein water.
Also have you tried our new collagen powder?  Simply add a tablespoon to get an instant 13g protein boost!  Mix it into your favourite food and drinks without impacting the taste, while getting a pure hydrolysed collagen peptide boost.  With zero fat, sugar or dairy its easiest way to get your protein boost without impacting your macros.  
Plus it comes in 100% recyclable packaging and is 100% sourced from EU, grass-fed, pasture-raised cattle.